The College of Health Sciences (CHS) of the Kwame Nkrumah University of Science and Technology (KNUST) in conjunction with the Convention of Biomedical Research Ghana (CoBReG) have held the 8th College of Health Sciences and 12th Convention of Biomedical Research Ghana, Joint Research Conference at KNUST.
The 2-day conference is under the theme: "Universal Access to Healthcare-The Role of the Health Scientist".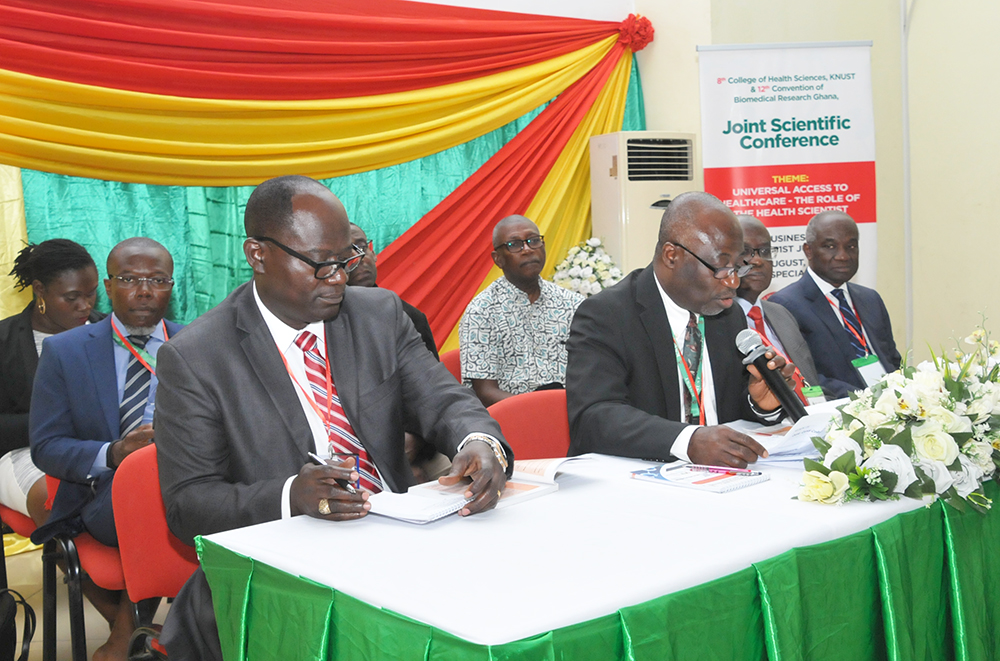 Professor Yaw Adu-Sarkodie, Provost of the CHS, in his welcome address stated that presentations at the conference would highlight the contributions of health scientists to complement the work of the health service in addressing issues of universal healthcare in the country.
He noted that the College's traditional role has been to produce the necessary human resources for health, engage in extension services within and outside the country to address important health issues and globally to address the Sustainable Development Goals (SDG3). 
In his address, the Chairman of the Organising Committee, Professor Ellis Owusu-Dabo said that in 1948, the World Health Organisation (WHO) declared health care access as a fundamental human right and has since followed up with series of indicators and programmes for achieving it.
He continued that key areas that are critical in achieving universal health care include equity in access to health services and quality of health services. He added that people should be protected against financial risk, ensuring that the cost of using services does not put people at risk of losing the services.
Professor Owusu-Dabo therefore hoped the Conference would accept scientific communication that seeks to tackle each of these areas while focusing on the unique role of the health scientists.
Dr. Evans Afriyie-Gyawu of the Georgia Southern University, USA, who was the keynote speaker said life expectancy for Ghanaians has been increasing since 1960 from 46 years to 63 years in 2017 (World Bank, 2017). He said this suggests that Ghana has been working hard to improve the quality healthcare delivery and reduce health risks.
He however added that environmental hazards present persistent challenges to clinicians and public health professionals.
Dr. Afriyie-Gyawu further said WHO estimates that 12.6 million representing 23% of all global deaths are attributable to the environment and lifestyle such as diet, tobacco, water and soil pollution, chemical exposures, among others.
Additionally, about 90-95% of all cancer cases are linked to the environment and lifestyle. He thus called on all stakeholders to come together to sustainably address the issue by promoting comprehensive research, create awareness among academicians and clinicians to intensify educational interventions, and ultimately improve the quality of healthcare in Ghana and Africa.
Dr. Anarfi Asamoah Baah, Board Chair of the University of Ghana Medical Centre, stated that the achievement of the universal health coverage is dependent on national governments taking ownership and establishing policies, plans, systems and appropriate programmes. He noted that Ghana has committed itself to achieving universal health coverage in the Ghanaian context, where all people in Ghana have timely access to high quality interventions and services, irrespective of the ability to pay at the point of use.
According to him, Ghana faces the threat of chronic diseases and health scientists and academia have a leadership role to play in bringing about a paradigm shift required for successful implementation of universal health coverage in Ghana.