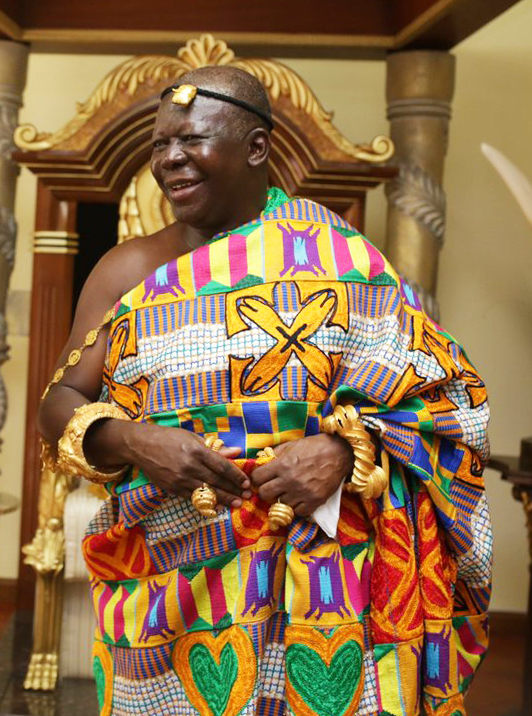 Otumfuo Osei Tutu II is the 16th Asantehene, (King of the Asante).  He ascended the Golden Stool on 26th April 1999.  He is a direct descendant of the founder of the Asante Kingdom,  Osei Tutu I.
Born on 6th May 1950 and named Barima Kwaku Dua, Otumfuo Osei Tutu II is the youngest of the five children of Nana Afua Kobi Serwaa Ampem II, Asantehemaa (Queenmother of Asante).  From early childhood, Barima Kwaku Dua came under the tutelage of his Uncle, Oheneba Mensah Bonsu who had been enstooled as Hiahene in 1952.
Oheneba Mensah Bonsu, therefore, ensured that Barima Kwaku Dua benefited from a childhood of careful grooming in Asante traditions and statecraft.
The young Royal was given his Secondary Education at Sefwi Wiawso Secondary School in the Western Region of Ghana where his guardian was Nana Kwadwo Aduhene II, Omanhene (Paramount Chief) of Sefwi Wiawso Traditional Area.
Barima Kwaku Dua returned to Kumasi in 1969 and enrolled at the Osei Kyeretwie Secondary School.  He then moved to Accra in 1971 and was admitted at the Institute of Professional Studies, Legon for a course in Accountancy.
Two years later, he travelled to the United Kingdom and continued his Accountancy Studies at the Kilburn Polytechnic.  He later attended the University of North London where he read Human Resource Development and Public Administration.
By the time he returned to Ghana in 1989 to establish his own business, Transpomech International (Ghana) Ltd., he had behind him a wealth of experience which he had gathered working as Senior Consultant with Mutual of Omaha Insurance Company of Toronto; Finance Officer at the British firm Oxon, in London; and as Personnel Administrator at the Manpower Services Commission attached to Brent Council in London.
Barima Kwaku Dua's nomination to succeed his late brother Otumfuo Opoku Ware II, as Asantehene, was received with universal acclaim in the Asante Kingdom and Ghana in general.  He ascended the Golden Stool with a natural gift of calm and radiance, which instantly inspires loyalty and motivates people round him.  He learnt values of courtesy and tact in dealing with both his peers and subjects; he had grown up with a conviction that traditional leadership rests on a capacity to reconcile, mend, heal wounds and motivate people.