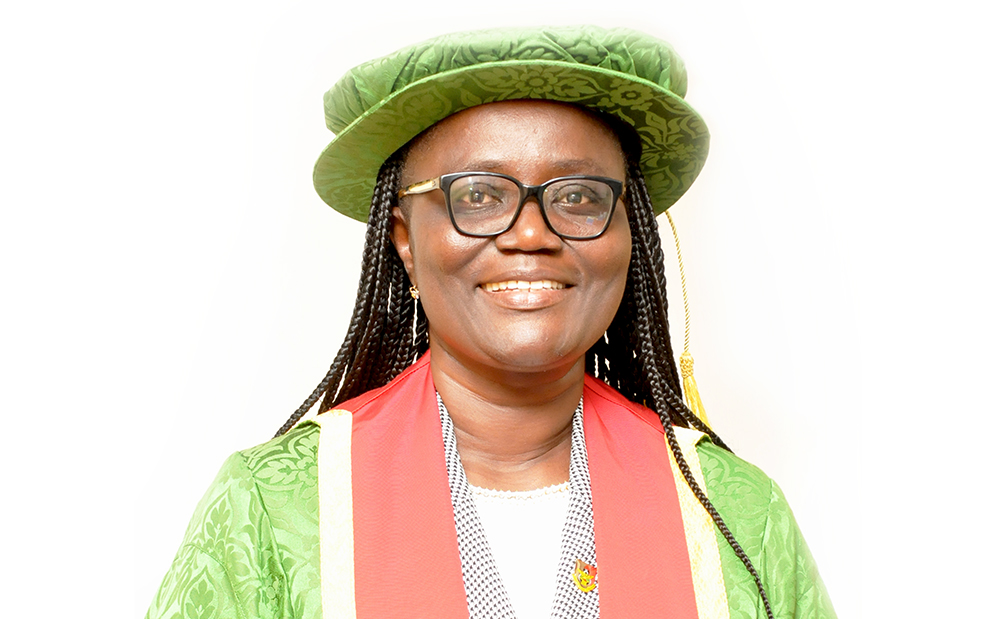 Professor Mrs. Rita Akosua Dickson (PhD, MPharm, GCAP, BPharm, FPSGH, FGCPh, MCPA), is an Alumna of the Kwame Nkrumah University of Science and Technology. Prior to her appointment as the Vice Chancellor, she has been serving as the 21st Pro Vice Chancellor of KNUST since October, 2018 and the first female in the history of the University to have occupied this elected position.
She had her basic education at the Akantome Primary and Royal International Schools in Bolgatanga and Kumasi respectively. She proceeded to the St. Monica's Secondary School in Mampong-Ashanti where she studied for her GCE Ordinary Level examinations and later Wesley Girls' High School in Cape-Coast, for her GCE Advanced Level examinations. She obtained her first degree in Pharmacy at KNUST and was invited by the Department of Pharmacognosy, Faculty of Pharmacy, KNUST, to undertake her national service and subsequently a Teaching Assistantship position at the Department, alongside her Pharmacy Council required hospital internship at the Komfo Anokye Teaching Hospital, Kumasi, Ghana. Professor Dickson pursued graduate studies leading to the award of Master of Pharmacy degree in Pharmacognosy in 1999 and was appointed lecturer at KNUST in 2000.
She received a Commonwealth Scholarship award in 2003 to study for a PhD degree at Kings' College, University of London, UK where she also studied a parallel programme in education and acquired a Graduate Certificate in Academic Practice (GCAP). She returned to teaching and research at KNUST in 2007 and got promoted to the rank of Senior Lecturer in 2009, and further to Associate Professor of Pharmacognosy in 2014. In 2011, Professor Dickson gained a Commonwealth Academic Fellowship at the Department of Pharmaceutical and Biological Chemistry, School of Pharmacy, University of London, UK, as a visiting scientist researching into bioactive natural products as well as Novartis Fellow in collaboration with Seeding Labs in the United States.
Professor Rita Akosua Dickson is an accomplished Phytochemist whose scientific knowledge and research expertise have impacted the international scientific community through training, mentorship and scientific appraisals. Her research work spans the identification and development of bioactive natural products as standard medicines for the treatment/management of communicable and non-communicable diseases with emphasis on anti-infective, wound-healing, anti-inflammatory, anti-pyretic, antidiabetic, leishmanicidal, pediculicidal and cercaricidal properties, based on the ethnopharmacological knowledge of selected medicinal plants, as well as bioactive bacterial Multidrug-Resistance (MDR) modifying agents and efflux pump inhibitors (EPIs) from natural sources. Her research output includes the isolation and structure elucidation of several novel bioactive natural products belonging to the following phytochemical classes among others: cassane furanoditerpenoids, coumarins, alkaloids, glycosides, flavonoids and triterpenoids with potentials as leads in drug discovery. She is keen on Phytopharmaceutical analysis and quality control of herbal medicines to ensure their safety and efficacy, with the conviction that Africans can reduce the continent's disease burden by focusing on and exploring the use of its flora and fauna to generate lead compounds and standardized extracts for drug development in the fight against diseases.
She has attended several conferences to present research papers and published over 80 scientific articles in peer reviewed journals. In addition, she has authored/co-authored five books and book chapters within the domain of her expertise. She is very visible on renowned academic platforms such as Research Gate, Google Scholar and Scopus with research impact of over 24,000 article reads and more than 700 citations in various scientific disciplines. She serves as a reviewer for several journals in Pharmacognosy, natural products Chemistry and Phytochemistry, as well as the South Africa's National Research Foundation and the KNUST Research Fund (KReF). She is currently the Editor in Chief for the International Journal of Ethnomedicine and Pharmacognosy (IJEP) and editorial member of International Journal of Science and Research Methodology (IJSRM).
As part of her professional networking and knowledge transfer partnerships, Professor Dickson holds membership of the Society of Medicinal Plant Research (GA), International Society of Ethnopharmacology (ISEP), Phytochemical Society of Europe (PSE) and the American Society of Pharmacognosy (ASP). She became the Head of the Department of Pharmacognosy, KNUST, for three consecutive terms, 2010 to 2013.  She was elected Vice Dean, and ultimately, the Dean of Faculty of Pharmacy and Pharmaceutical Sciences (FPPS) between 2016 and 2018, emerging as the first female to be appointed to that position in the history of the Faculty. Through excellent human relations and admirable interpersonal communication skills, Professor Dickson was able to mobilize financial and material resources to provide the needed infrastructure to support the Doctor of Pharmacy (PharmD) programme, as well as making teaching, learning and research in the Faculty one of the best within the University.
Professor Mrs. Rita Akosua Dickson has served on several statutory and non-statutory boards and committees within the University, Ghana and abroad. Her professional expertise as a pharmacist and pharmacy educationist have been useful to the pharmacy fraternity in Ghana and beyond. she served as a Board member of the Ghana Pharmacy Council and Pharmaceutical Society of Ghana and is a fellow of the Ghana College of Pharmacists and the Pharmaceutical Society of Ghana. She has served on several committees locally and internationally in the area of Pharmacy Education and Training and was a member of the Steering Committee of the Ghana National Medicines Policy Programme and International Pharmaceutical Federation (FIP)-UNESCO UNITWIN Centre for Excellence in Africa (CfEA) platform. Prof. Dickson again served as the National Coordinator of the West African Network of Natural Products Research Scientists (WANNPRES) and the President of the Planned Parenthood Association of Ghana (PPAG) among others.
She is passionate about demystifying STEM programme for girls and training the youth into global transformational leaders through talks and other engagements. She loves cooking, exercising and hanging out with friends and families. She worships at Grace Baptist Church, Amakom, Kumasi, where she serves as a Deaconess and Marriage Counsellor.
She is married to Nana Sarkodie Dickson, a Chartered Accountant, and the couple is blessed with four daughters; Akosua, Abena, Akua and Afua.