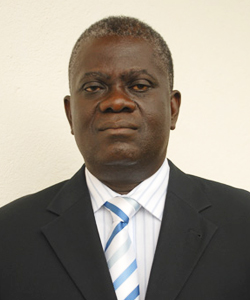 Professor Kwasi Kwafo Adarkwa, is a Professor of Transportation Planning in the College of Architecture and Planning of KNUST. He attended Mfantsipim School in Cape Coast, KNUST, University of British Columbia in Canada and the School of Urban Planning and Landscape Architecture at the Michigan State University in East Lansing, Michigan, United States of America.
Professor Adarkwa was Pro Vice-Chancellor of KNUST for four years. Dean of the Faculty of Environmental and Development Studies (FEDS) for three years, Vice Dean of FEDS and Head of the Department of Planning at KNUST for nearly five years. Some KNUST Committees he has served includes the Academic Board, Executive Committee, Tender Board, Development Sub-Committee, Library Committee and the Bureau of Integrated Rural Development (BIRD) Management Committee.
While he was the Pro Vice-Chancellor, he chaired as many as twelve Statutory Committees at KNUST. He has also held other appointments outside the University including External Examiner - University of Cape Coast, University of Nairobi, Institute of Statistical, Social and Economic Research (ISSER) of the University of Ghana, the Institute of Social Studies at the Hague in the Netherlands and the University for Development Studies.
Professor Adarkwa has also served on various National Boards, Committees and Task Forces including the National Task Force of Science and Technology Policy and Human Settlements Task Force. He is a member of the Government of Ghana's Decentralization Implementation Advisory Committee.
He also served as Chairman of the Search Committee for a new Principal for the Kumasi Polytechnic in 2005. He was the chairman of the Local Organizing Committee (LOC) of the Kumasi Venue for the CAN 2008 tournament. Professor Adarkwa has published in many peer reviewed journals and his research interest is in transport investments on low volume roads and their impacts for development.
A graduate of the Kwame Nkrumah University of Science and Technology and a transport planning expert, Prof Kwasi Kwafo Adarkwa who is currently in the Department of Planning was the eighth Vice-Chancellor of the University from 2006 to 2010. Prof. Adarkwa, who holds a Doctor of Philosophy in Urban and Regional Planning from the Michigan State University in the USA, is a Fellow of the Ghana Institute of Planners, member of the Chartered Institute of Transport, the Ghana Institute of Logistics and Transport, the International Forum for Rural Transport Development and Fellow of the Ghana Academy of Arts and Sciences.