The Vice Provost for Global Initiative of University of Rhode Island, Dr. Gifty Ako-Adouvno together with some delegates of the University have paid a courtesy call on the Vice Chancellor of the Kwame Nkrumah University of Science and Technology (KNUST), Professor Kwasi Obiri-Danso.
The visit was in conjunction with KNUST's involvement in the Analytical Support Systems and Evaluation project in Sustainable Systems in Agriculture, Environment and Trade (ASSESS). The role of KNUST in this 5-year project is to provide technical and administrative support. The visit was also to acquaint themselves with URI-KNUST collaboration, the project progress so far and also explore areas to strengthen it.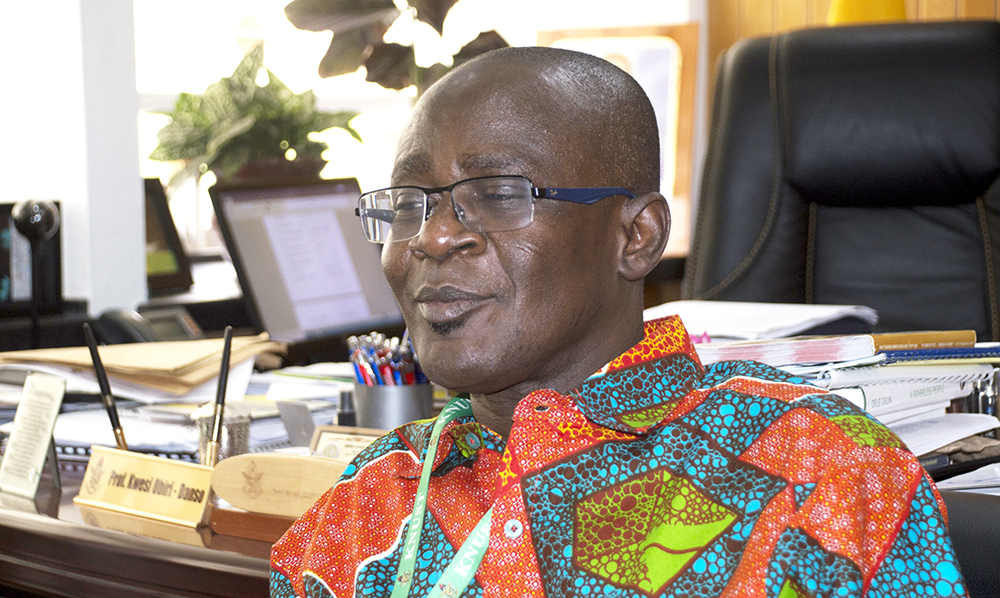 Professor Kwasi Obiri-Danso, in his welcome address said that the University cherishes the collaboration so far and revealed that it has led to the introduction of some of academic programmes in KNUST.
On areas that calls for further collaboration, Professor Kwasi Obiri-Danso said that 'Akokono' which is very high in protein is one of the major areas KNUST is having an extensive research and encouraged the officials to also take interest in.
In another development, Professor Obiri-Danso recommended that URI brings specialists on board to train some students on autism. He explained that he has received several memos from the Government to run such courses in Ghana to help develop the expertise of students on the condition. 
In response to the Vice Chancellor's recommendation, Dr. Gifty promised to look at ways they could liaise with KNUST and run courses on Autism since they have experts in that area.
As part of the visit, they took a familiarity tour on campus, interacted with the head of Food and Nutrition to look at various sectors to explore for possible future collaborations.
Present as the meeting was Karen Kent, a Principal Investigator of ASSESS; Brie Oaks, Dr. Ernestina Freduah-Antoh, Director of BIRD, and Professsor Paul Sarfo-Marfo.