The Provost of the College of Science, Professor Leonard K. Amekudzi, has delivered his inaugural lecture on the topic "Cracking the Climate Change Code: The Sub-Saharan African Revolution."
Highlighting the significance of the event, Mr. Andrews Kwasi Boateng, the Registrar of the Kwame Nkrumah University of Science and Technology (KNUST), Kumasi, stated that inaugural lectures stand as a pivotal opportunity for newly appointed professors to step into the academic spotlight. He added that the lectures provide a unique platform for distinguished educators to introduce themselves to the academic community and the world at large. Through these lectures, these scholars share an educational overview of their contributions, offering insights into their chosen disciplines and the transformative potential of their work.
According to him, KNUST, as a Higher Education Institution, seeks to provide solutions that transcend the boundaries of academia and impact society through innovative research. As a result, the University has made inaugural lectures a cardinal event in its academic calendar to influence change and address pressing societal issues.
In his Lecture, Professor Amekudzi, an Atmospheric Climate Scientist, delved into his lifelong journey inspired by a tragic lightning incident during his childhood. This event ignited his unyielding pursuit of understanding climate change. His educational journey, from a BSc. in Physics to a Ph.D. in Atmospheric and Climate Science, shaped his expertise in the field. "These studies not only deepened my understanding of the physical processes governing our universe but also provided the tools to examine the delicate balance between nature and human society," he remarked.
The Lecture highlighted the urgent need to address climate change challenges in Sub-Saharan Africa (SSA). Professor Amekudzi stressed the intricate interplay between natural, social, cultural, and climate systems that define the identity of Sub-Saharan Africa. He discussed the vulnerabilities of the Sub-Region to climate change, including rising temperatures, changing rainfall patterns, and their associated socio-economic impacts. According to him, it is projected that over 71 million people in Sub-Saharan Africa will become climate refugees by 2050. As a result, Professor Amekudzi emphasised the imperative need to crack the climate code for sustainable development, particularly in a region as diverse and vulnerable as Sub-Saharan Africa.
One remarkable aspect of Professor Amekudzi's work is his development of the VECTRI model, a groundbreaking tool for predicting malaria transmission patterns. Professor Amekudzi expounded that this innovative tool enables accurate predictions of malaria transmission patterns. Through this model, he provided insights into climate-driven malaria outbreaks, enabling targeted interventions and resource allocation. His lecture also showcased the impact of human-induced climate change, as evidenced in rising global surface temperatures and their local consequences, such as urban flooding. Professor Amekudzi echoed a clarion call for collaboration across sectors - government agencies, policymakers, academia, and the media to prioritise climate resilience in raising awareness of climate change. He advocated the infusion of Artificial Intelligence (AI) in weather forecasting, harnessing its potential to enhance prediction precision, as well as research into innovative solutions such as green Hydrogen energy in the fight against climate change.
The Vice-Chancellor of KNUST, Professor (Mrs.) Rita Akosua Dickson, congratulated Professor Leonard K. Amekudzi on his distinguished academic career and contributions to the emerging and pressing global issue of climate change. Professor (Mrs.) Dickson also commended him for his commitment to conducting such research and highlighted the need to delve into climate change issues for the betterment of society.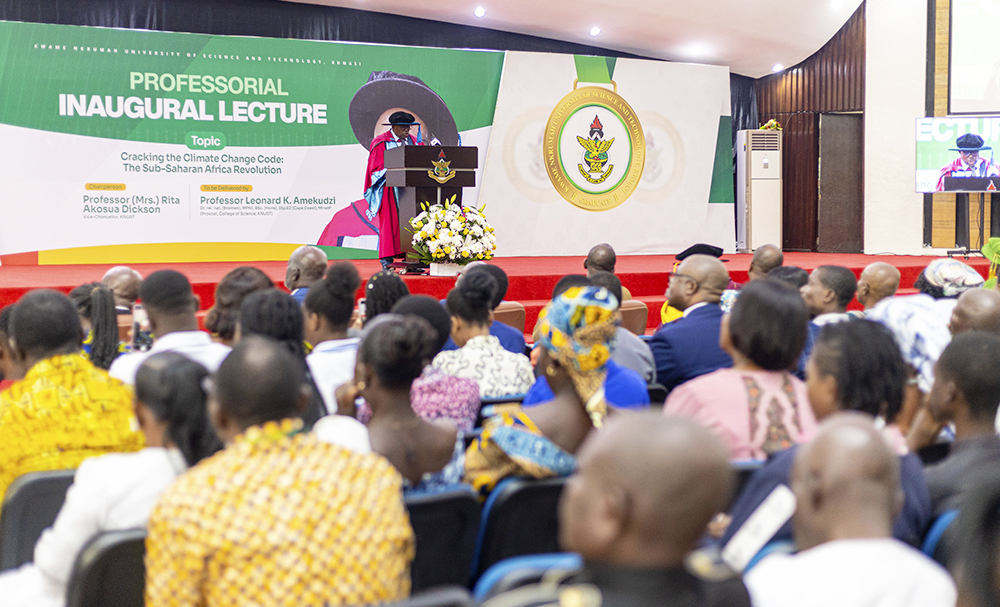 The Lecture was highly patronised by the University Community, Stakeholders in Climate Change, the German Ambassador to Ghana, the Clergy, Traditional Leaders, Alumni, the Media, the General Public, Friends and the Family of Professor Amekudzi.