As part of activities to commemorate the 70th Anniversary celebrations of the Kwame Nkrumah University of Science and Technology (KNUST), the Vice-Chancellor, Professor (Mrs.) Rita Akosua Dickson has hosted a virtual interactive session with all KNUST alumni worldwide on Monday, 18th October 2021. The interaction had over 750 past students from 23 countries joining via zoom and other KNUST social media platforms.
The Global Alumni President, Dr. Kwaku Agbesi, in kick-starting the conversation, appreciated the Vice-Chancellor for the initiative to share her vision with the alumni and further discuss ways of promoting the Institution. He called on all alumni to contribute their ideas for the growth of the University and retain its position as the leading Science and Technology University and best University in Ghana.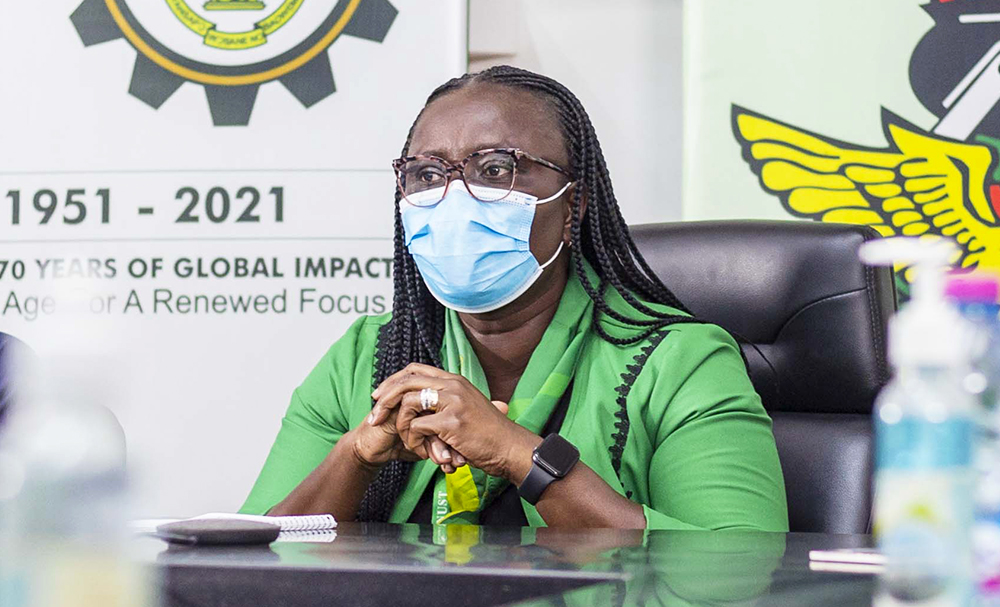 The Vice-Chancellor described her goal for KNUST, which is to "position the university as a competitive global research-intensive institution for advancement in Science and Technology for industrial and societal adoption toward sustainable, national, and global development." She stated that KNUST is now ranked best University in Ghana and 12th in Africa by the US News and World Report and aspires to be among the top five, and that accomplishing the ambition will require all hands-on deck.
Professor (Mrs.) Rita Akosua Dickson again noted that KNUST believes in constructive partnerships to promote the common good of the university. She urged the alumni to utilise the e-space to bring their suggestions on board to move the University to a higher pedestal.
To ensure seamless communication between the University and its alumni, Professor Dickson indicated that the University has introduced weekly Tek Briefs to update the alumni on the happenings in the University. She also revealed Management's plan to develop various communication tools which include KNUST Connect Alumni App, Feedback App to keep in touch and receive prompt feedback and conduct tracer studies to know how graduates are doing in the industry. 
Professor (Mrs.) Dickson mentioned that the KNUST Research Fund (KReF) has been expanded to GH¢1,000,000 to support research. 'With this increment, I believe that alumni can collaborate with us in conducting cutting-edge research by establishing Chairs, scholarships and using their expertise to organise demand- driven short courses, she asserted.
In enhancing entrepreneurship drive for the students, the Vice-Chancellor disclosed that KNUST will establish an Internship Placement and Career Development Centres. She, therefore, called on the alumni to organise seminars and symposia on soft skills to provide mentorship for students.
Several infrastructure development projects, according to Professor (Mrs.) Dickson, are underway. She encouraged alumni to join project-year groups and adopt and sponsor a project that would be named after them.
On behalf of the alumni, the North American Chapter President, Mr. Yao Ababio, praised the University's Management for the outstanding work done thus far and pledged to give their widow's mite to KNUST's progress.
Dr. Hermann Addae, the alumni representative, gave an overview of alumni activities for the 70th Anniversary. These include the setting up of an Endowment Fund dubbed '70@70 Alumni Levy', a 'Throwback Nite' to share great and fun moments on campus, 'Katanga-Unity Alumni Round Table Convo', and Alumni-Faculty-Industry (AFI) activities.