Bacterial infections of the eyes are a leading cause of ocular morbidity and blindness globally, with a disproportionately high incidence in low- and middle-income nations like Ghana. The bacteria causing these infections have recently developed resistance to the antibiotics used in treatment resulting in a global health threat. Before prescribing antibiotics, health care providers are urged to collect ocular swabs to identify the causative agents. In locations with limited resources, however, medical professionals monitor apparent symptoms and then provide broad-spectrum antibiotics. Additionally, the bacteria that cause these infections vary depending on a variety of circumstances, such as location. Therefore, regional research is essential for delivering effective medical management and controlling the rise of antimicrobial resistance (AMR).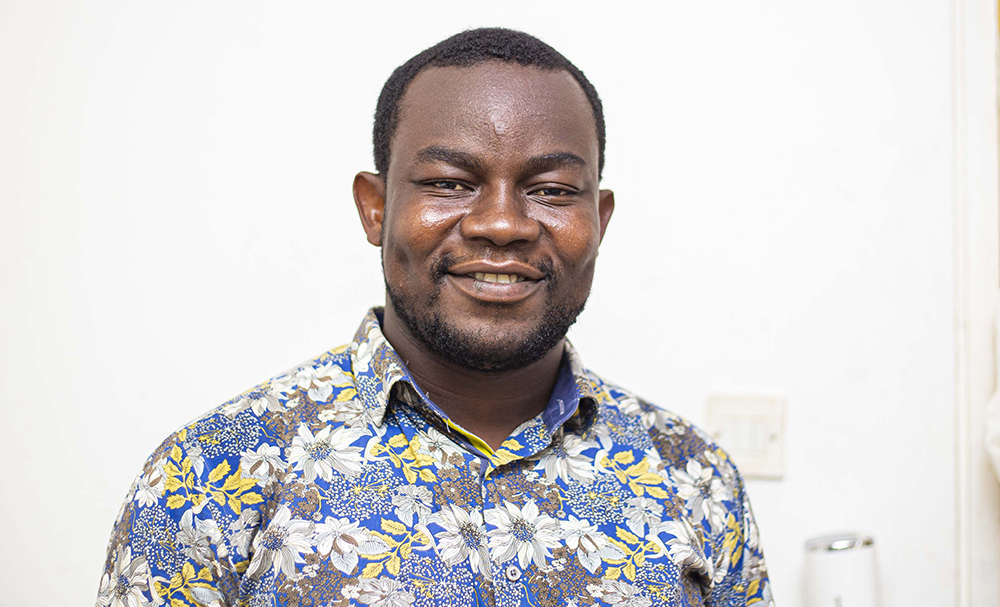 In this regard, Mr. Isaiah Osei Duah Junior, a Research Assistant at the Department of Optometry and Visual Science of the Kwame Nkrumah University of Science and Technology (KNUST), has devised a multi-centre study to get a better understanding of the situation in Ghana. The multi-centre research investigated the bacteria causes of external ocular and periocular infections and antimicrobial treatment patterns among ophthalmic patients in Ghana. This study was conducted in collaboration with Dr. Kwadwo Owusu Akuffo, Dr. Tchiakpe Michel Pascal and Dr. David Ben Kumah of the Department of Optometry and Visual Science; Dr. Lawrence Sheringham Borquaye of the Department of Chemistry; Dr. Cynthia Amaning Danquah of the Department of Pharmacology, Mr. Francis Dzideh Amankwah, and Prof. Stephen Yao Gbedema of the Department of Pharmaceutics and other experts from the University of Ghana, Kumasi South Hospital and Anglican Eye Hospital, Jachie.
During the research, one hundred and fourteen (114) patients had a comprehensive ocular evaluation performed. Eye swabs were taken from the eyes and underwent microbial analyses. Also, bacterial pathogens were isolated and characterised.
Speaking to the University Relations Office, Osei Duah revealed that his team isolated the bacterial pathogens and had them characterized. They found that approximately 95% of the samples were conclusive for bacteria culture. 58% were Gram-negative bacteria, 38.8% were Pseudomonas aeruginosa, and 27.6% were Staphylococcus aureus.
"The findings from this study will inform eye care policies on the appropriate use of antibiotic therapy in the routine clinical treatment of eye infections among eyecare providers in Ghana. The baseline country-specific estimates will inform future ocular antimicrobial resistance surveillance studies in this jurisdiction," he said.
The project received partial funding through the TiDi Foundation Undergraduate Dissertation Research Grant. Also, the initial results of the work were accepted for presentation at the Association for Research in Vision and Ophthalmology Conference in Colorado, Denver, in the United States of America, from May 1 to 5, 2022. They would also be presented at the American Society for Microbiology annual scientific meetings in Washington DC, USA on June 9 to 13, 2022.
Again, the study was recognised during the maiden College of Science Excellence Awards. The lead investigator, Isaiah Osei Duah Junior, was adjudged the overall Best Research Student of the Department of Optometry and Visual Science, KNUST. The second phase of the project, led by Ms. Carolyne Yanney, another student from the Department of Optometry, would seek to investigate fungal causes of eye infections and explore local herbal plants as potential antifungal agents.
Considering the financially demanding nature of this project, Isaiah Osei Duah Junior solicited support from the University research aid and other relevant stakeholders to fight antimicrobial resistance.