As part of measures to improve off-campus security, the Management of the Kwame Nkrumah University of Science and Technology (KNUST), Kumasi through the Directorate of Students' Affairs (DoSA), has completed the installation of two hundred and fifty-five (255) LED streetlights across various strategic areas in ten surrounding communities: Ayeduase, Ayeduase New Site, Boadi, Emina, Kotei, Gyinyase, Bomso, Ahinsan, Kentinkrono, and Ayigya.
The total cost of the project, comprising the cost of the bulbs, installation materials, and labour, is valued at One Hundred and Seventy Thousand Ghana Cedis (GHS 170,000.00).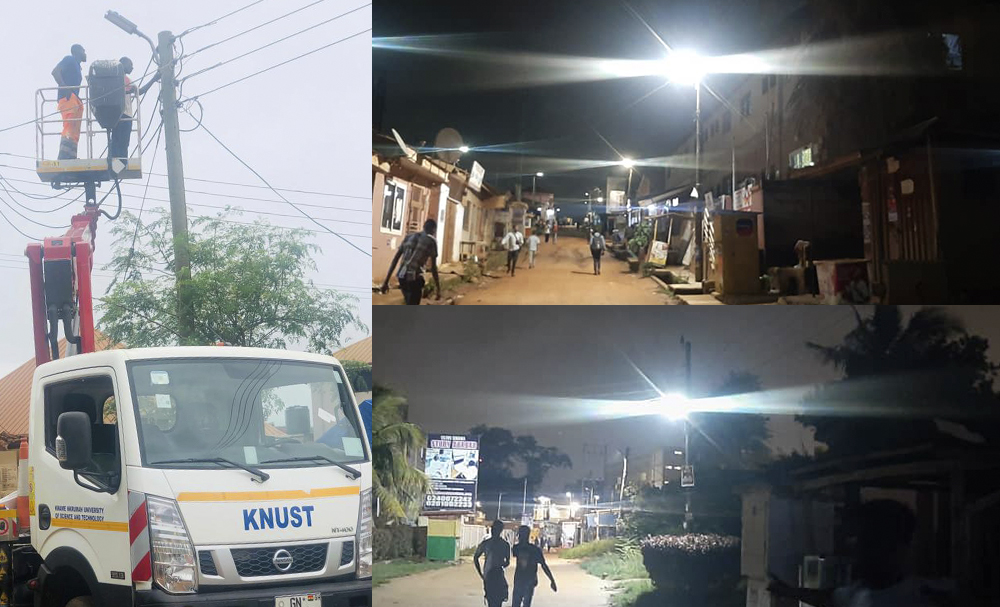 The Director of Students' Affairs, Professor Wilson Agyei Agyare, emphasised the importance of students' security and welfare to the University Management. He further indicated that KNUST would continue to contribute to the socio-economic development of communities surrounding the University by working with the municipal assemblies, traditional authorities, and other opinion leaders. He made this statement during a ceremony to mark the commencement of the project with some Off-campus Senior Tutors, Representatives of the Oforikrom Municipal Assembly, and the Union of Non-Residential Constituencies of KNUST SRC Parliament.
According to Professor Agyare, the project follows the development and unveiling of the KNUST Off-campus Students' Accommodation Support System (KOSASS); an online platform designed to alleviate challenges faced by students, parents, and hostel owners by making it easier for students to search for hostels, get directions and information about possible prices, and interact directly with hostel owners and the University.
The Assembly members of the communities expressed their profound gratitude to the University Management for the initiative.