As part of its yearly corporate social responsibility, the College of Health Sciences (CHS) of Kwame Nkrumah University of Science and Technology (KNUST) has supplied Personal Protective Equipment (PPEs) to twenty-two (22) health care institutions that serve as teaching venues for its students.
The donation, which took place on 23rd November, 2021 at the College's Boardroom, saw in attendance several faculty Deans of the College and representatives of the various beneficiaries. The donated equipment was a total of 124 gallons of sanitisers, 200 boxes of gloves, 203 boxes of caps, 235 boxes of masks, 190 boxes of N95 masks and 245 surgical gloves.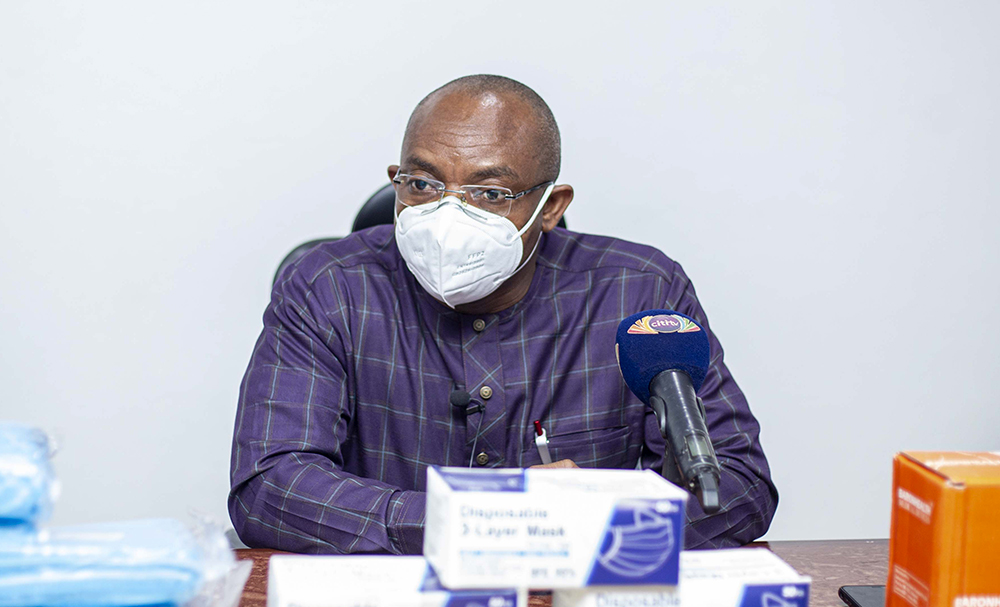 Addressing the audience, the provost of the College, Professor Christian Agyare, indicated that it was the second time the College has done a donation of that kind to the various learning sites. He added that aside the College joining in the fight against the coronavirus pandemic through the donation, he believes the various teaching sites deserve their deepest appreciation for providing the learning ground in the clinical training of the medical, nursing, and pharmaceutical students of the College. 
Professor Agyare also stated that the College is eager to provide more assistance to improve their students' clinical experience and believes that such actions would deepen their relationship with all the associated training facilities.
Dean of the School of Medicine and Dentistry, Professor Daniel Ansong, said from next year, the College would commence capacity building and refresher courses for the receptors from the multiple health centres.
The teaching sites that benefited from the donation are, Asokwa Children's Hospital, Suntreso Government Hospital, Atonsu Agogo Government Hospital, Manhyia Government Hospital, Tafo Government Hospital, Ejisu Government Hospital, Wiamose Government Hospital, Maternal and Child Health Hospital, Ejura Government Hospital and Hope X-change.
SDA Kwadaso, VSD Clinic Amakom, VSD Lab Amakom, VSD Clinic Ejisu, Kumasi Abattoir Company Limited (KACL), Agogo Presbyterian Hospital, Aniwaa Medical Centre, Juabeng Government Hospital, Onwe Hospital, St. Michael's Hospital, KNUST Hospital and Komfo Anokye Teaching Hospital were also part of the beneficiaries.
The recipients expressed their gratitude to the College and requested that they continue to work together to ensure that the college produces the greatest medical practitioners for the country.