Management of the Kwame Nkrumah University of Science and Technology (KNUST), Kumasi has commissioned state-of-the-art E-learning facilities at the Evans Anfom Auditorium and Casely Hayford Building on Friday, 2nd September, 2022.  
The 23 modern e-learning teaching studios are equipped with multimedia-studio equipment dedicated for both live and pre-recorded classes.
The studios are made up of offices, Wacom rooms for teaching synchronous and asynchronous classes, a photo studio, a podcast room, instructional design studios and a support centre. The facility also has an instructional design floor for staff to take and re-design lecture slides and also advise on which form of content to go online.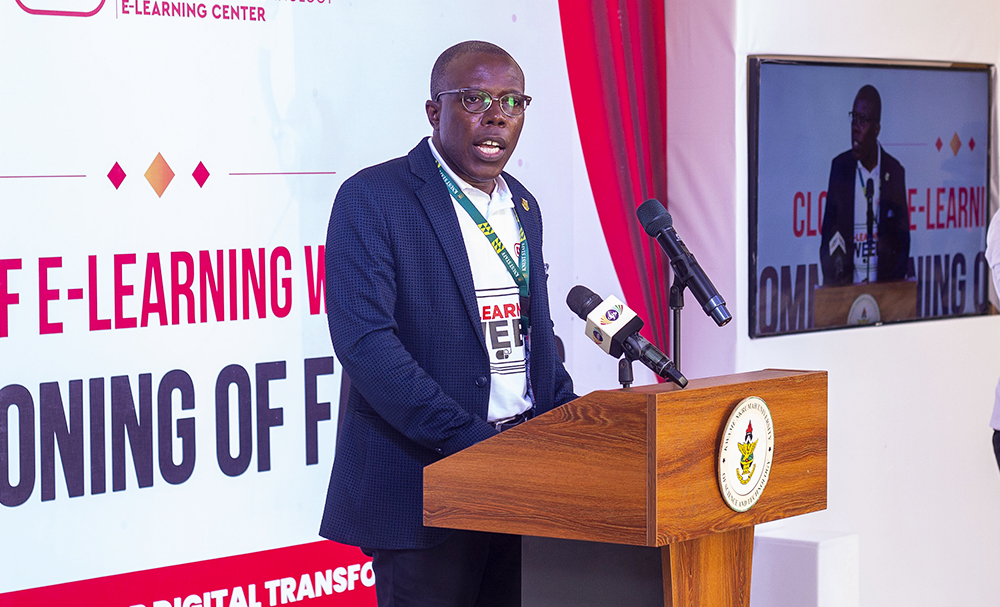 Professor Ellis Owusu-Dabo in a speech read on behalf of the Vice-Chancellor noted that the digital transformation of education which brought about limitless innovations necessitated the University to adjust and adopt new ways of delivering quality education. 'We decided to put up a dedicated and purpose-built infrastructure to drive our goal to move beyond the brick-and-mortar classroom and become champions in digital education.'
He congratulated the E-learning Centre for all the hard work in ensuring the University's vision of having an E-learning Centre and urged them to be good stewards of the equipment and the infrastructure to enjoy its long-lasting benefits.
The day also saw the launch of the 'E-learning Ghana' forum which will be a platform for capacity building, advocacy, discussing and planning of e-learning-related activities. The platform consists of educators, administrators, trainers, support staff, technology experts, policymakers, and investors. The network would provide to the major stakeholders to ensure the integrity and standard of the Ghanaian e-learning space.
To crown the weeklong E-learning Week,  students and staff from the six colleges and the Institute of Distance Learning who have been actively using the Learning Management System (my Class) were awarded a plaque and a certificate.