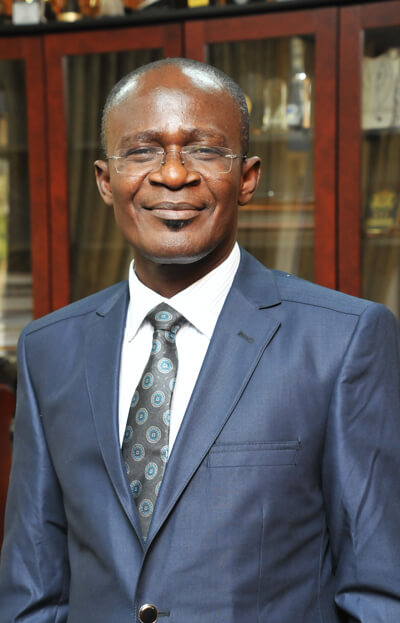 Kwasi Obiri-Danso, Professor of Environmental Microbiology/Environmental Health at the Department of Theoretical and Applied Biology is an erudite scholar of international repute. Prior to his appointment as Vice-Chancellor, he was the Provost, College of Science, KNUST. A leading academic with considerable experience in general education, institutional management, university teaching, research management, international relations and outreach service delivery.
Professor Obiri-Danso also has boardroom experience, collaborative research experience, and experience from headship/membership of high profile Boards, Committees and Teams.
At the time of his appointment to the eminent seat of Vice-Chancellor, he was Chairman, Kumasi Polytechnic Council; Chairman, National Nuclear Research Institute; Member, Ghana Atomic Energy Commission and Member, Implementation Committee for University of Environment and Sustainable Development.
At KNUST, he has been a long standing member of the Academic Board and Member of the Executive Committee and of the Central Disciplinary Committee. He has also been Chairman, Committee of Hall Administrators and Hall Master of Independence Hall. In addition to these, the Professor has chaired or been a member of the Research and Conferences, Planning and Resources, Scholarships, Books and Publications, Residence, Security Management and many other local committees. He has also served on many non-statutory/ad-hoc committees on issues pertaining to discipline, affiliations, the establishment of new programmes, accreditation, fee fixing, and many others.
Professor Kwasi Obiri-Danso started his education at St. Anthony Preparatory School in Accra. He spent a year at the Salem School in Aburi before proceeding to the Swedru Secondary School for his Ordinary and Advanced Level Certificates. At KNUST, he obtained a BSc. in Biological Sciences and an M.Phil. in Food Microbiology and proceeded to Lancaster University in the UK where he obtained a Certificate in Modeling Duration Data and a PhD. in Environmental Microbiology.
In his career in academia that began in 1987, Kwasi Obiri-Danso has risen through the hierarchy from the lowest position of Teaching Assistant (1987-1989), through the positions of Lecturer (1990-2000), Research Assistant at the Institute of Environmental Sciences, Lancaster University (1996-1999), Senior Lecturer (2000-2007), and Associate Professor (2007-2014), to the revered vertex rank of Professor in 2014. Traversing this career path, Professor Obiri-Danso has been Head of Department, Dean of Faculty, Dean at the International Programmes Office and Provost. His scholarship has not been manifest only within but also outside the confines of KNUST.
He has served a number of local and foreign universities and professional bodies as external examiner and external assessor. He has also been Editor-in-Chief, Journal of the University of Science and Technology (JUST) and Associate Editor, Journal of the Ghana Science Association.
Professor Kwasi Obiri-Danso has to his credit a century of publications and conference papers. His most recent studies have focused on mitochondrial DNA stability and maintenance in Caenorhabditis elegans through the study of the various genes involved, especially of the candidate genes for mitochondrial diseases. He has also conducted extensive studies on Antibiotic Drug Use, Monitoring and Evaluation of Resistance in humans, food animals, water and vegetables, particularly with the microorganisms Campylobacter, Salmonella, Escherichia coli and Enterococci. Related to this is his expansive study on the microbiological quality of bathing waters.
Over the past 20 years Professor Obiri-Danso has raised or been a member of teams that have raised significant development and research funds from such grantors as WHO, DANIDA, MasterCard Foundation of Canada, DRUSSA, WORLD BANK, Urban Food Plus and ADMER.
Professor Obiri-Danso is married to Lucy with whom he has a son named William.