The Director of the West African Genetic Medicine Centre (WAGMC) and Director of the GhGenome Project, Professor Solomon Fiifi Ofori-Acquah, has delivered a public lecture on the "Ghanaian Genome-Our Duty to Decode." The event was held under the auspices of the Public Lectures Committee of the Kwame Nkrumah University of Science and Technology (KNUST), Kumasi, in collaboration with the Ghanaian Genome (GhGenome) Project.
In his address, the Pro Vice-Chancellor, Professor Ellis Owusu-Dabo, stated that it is important to know the interactions between life cells and the environment as well as occurrences and interactions of genetic compositions for common diseases of which many people do not understand.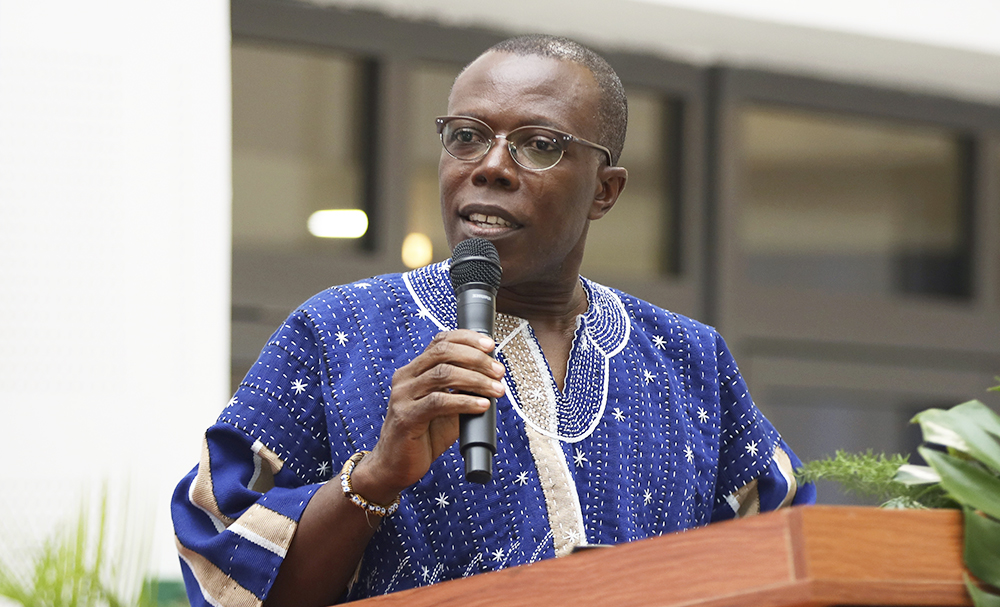 Professor Owusu-Dabo continued that every individual must understand the whole process of genetic precipitation "It is indeed our duty as Ghanaians to help decode and understand the complex DNA that we carry, to better understand our risks of developing many diseases including sickle cell disease, breast cancer, and prostate cancer", which the GhGenome Project seeks to achieve.
In his lecture, Professor Solomon Fiifi Ofori-Acquah stated that Ghana has been since 500 BC (that is over 2500 years ago). The contemporary Ghanaian is Ghanaian due to the following factors; has a Ghana Card, Voter's Identity Card, language, place of birth, culture, DNA, birth certificate, among others.  
Through a vox pop, he sought to find out who a Ghanaian was, with the varied answers given, not even one person used their ethnicity as the basis for being Ghanaian and commended Ghanaians for the sense of Ghanaian belongingness and oneness.
According to Prof. Ofori-Acquah, Ghanaians recognise DNA as a basis of their nationality and that physical traits are genetically determined.
The WAGMDC Director further said the burden of undiagnosed genetic diseases and low scientific information and family discourse: the case of sickle thalassemia and our lack of capacity to identify the causes of rare diseases in Ghana leaves many families hopeless about parental and marital status in the country. He added that there are currently no genetic programmes to diagnose rare diseases and to identify mutations responsible for childhood cancers in Ghana.
He further explained that over 1% of all babies with sickle cell disease (SCD) have one parent who is negative for the sickle cell mutation; non-paternity may be assumed to be the reason for this phenomenon in most cases. Globally, sickle cell disease is the number one genetic disease. We have to decode the mutations that cause them to help our communities fully understand sickle cell disease.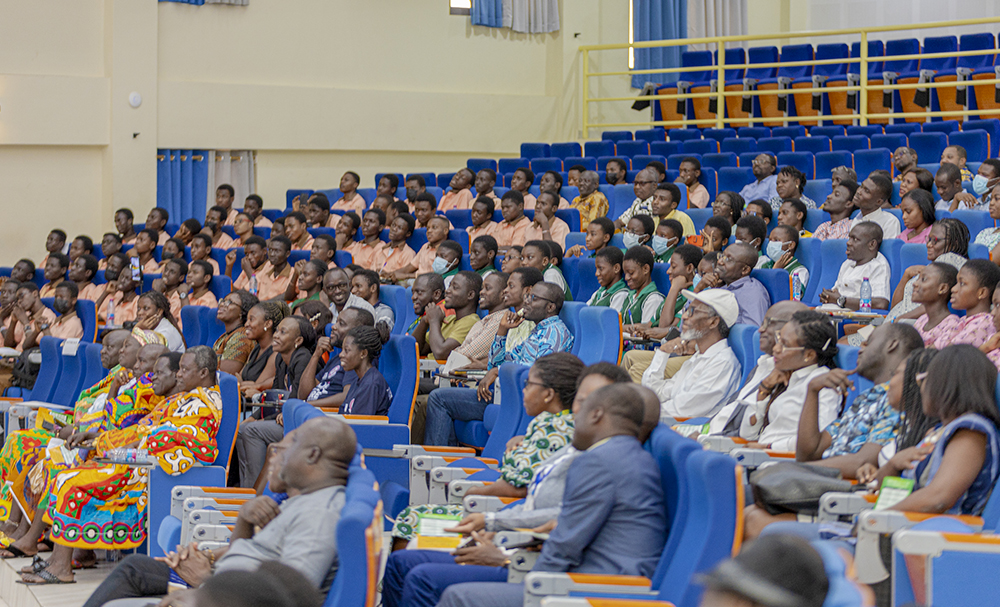 He revealed that over 400 children in Ghana are diagnosed with a variety of cancers every year.  Most of these cancers have a genetic component that we currently are not able to decode in the country due to the lack of genetic testing facilities in Ghana.  lymphomas and leukaemia have 40%, Wilms tumour or AMER 1 gene mutations 15%, Retinoblastomas RBI gene mutations 15%, and all others 30%.
The Director of the GhGenome project further said the lack of genetic testing in Ghana means a death sentence to many Ghanaian children diagnosed with childhood cancers.  Therefore, we must decode the mutations that cause childhood cancers in Ghana.  
Launched on Wednesday, 24th August 2022 at the University of Ghana, Great Hall, the GhGenome project, is aimed at educating the public on the importance of genetics in health, well-being, and diseases. The project is focused on four main areas: a nationwide public lecture on the Ghanaian Genome with partner academic institutions, an in-country free screening of genetic diseases specifically for sickle cell conditions, breast and prostate cancers, a postgraduate genetics training programme including – the first-of-a-kind, Master of Science in Genetic Counselling training programme and the sequencing of the DNA of 1000 Ghanaian children with severe genetic disorders.
With this vision in mind, GhGenome promotes the need to decipher the Ghanaian Genome, increase awareness of common genetic disorders, advocate for individuals to know their genetic health status, and improve access to genetic health services in Ghana.
The GhGenome has the Okyenhene Osagyefo Amoatia Ofori Panin as the Patron. It has traditional partners such as the Akyem Abuakwa, Korle Gonno, Osu, Asante, and the La Traditional Council. Institutional partners of the project are Kwame Nkrumah University of Science and Technology (KNUST), University of Cape Coast (UCC), University of Health and Allied Sciences, and University Development Studies (UDS). It has the Sickle Cell Foundation of Ghana and the West African Genetic Medicine Centre (WAGMC) as sectoral partners and the Psychology Council of Ghana.
Professor Ofori-Acquah is an Associate Professor of Medicine and Human Genetics, at the University of Pittsburgh, USA. He is the Centre Leader of the West African Genetic Medicine Centre (WAGMC); the Principal Investigator of the SickleGenAfrica Network; the Director of the Ghanaian Genome (GhGenome) Project and the newly appointed President and CEO of the Sickle cell Foundation of Ghana (SCFG).
His research is focused on pathogenesis, genomics, and innovative therapy in sickle cell disease. His seminal work published in the Journal of Clinical Investigation in 2013 identified extracellular heme as the danger molecule that drives sterile inflammation in sickle cell disease to promote the development of acute chest syndrome; this work established the first mouse model of acute chest syndrome. His research has continuously been funded by the NIH and other funding agencies since 2004. He is an Expert NIH Reviewer with service on multiple committees focused on Respiratory Biology, Hematology, and Genomics. He has authored over 70 research papers, reviews, and book chapters, and mentored over 30 junior scientists, physicians, and students. He is currently a permanent member of the Molecular Cellular Hematology study section.