The Kwame Nkrumah University of Science and Technology (KNUST), Kumasi, is a leading science and technology University in Africa, which strives for academic excellence and innovation. As captured in the University's Strategic Plan, 'Diversity and Equal Opportunity for all', as one of the University's core values, KNUST also seeks to create an environment of understanding and respect for cultural diversity and equal opportunity among students and staff, including upholding the KNUST Disability Policy.
In recent years, there has been a growing emphasis on making universities more inclusive and accessible for students with disabilities. KNUST has responded to this call by investing in the construction of accessible buildings and infrastructure that are essential for students with disabilities to fully participate in the academic and social life on campus. The University has gone to great lengths to ensure that its facilities are not only disability-friendly but also meet the highest standards of accessibility.
The facilities at KNUST have elevated entrances with ramps or elevators with signages and audio announcements, providing wheelchair access and are large enough to accommodate mobility devices such as wheelchairs, and have braille. The restrooms are designed to accommodate wheelchair users and sink at an appropriate height. The hallways are wide enough for wheelchair users to navigate, with clear paths and no obstructions. The doorways are also wide enough to allow wheelchair access and have lever handles instead of knobs. In addition, the University has specially designed a ground floor of a hostel for students with mobility challenges, which is equipped with a range of facilities to support their specific needs.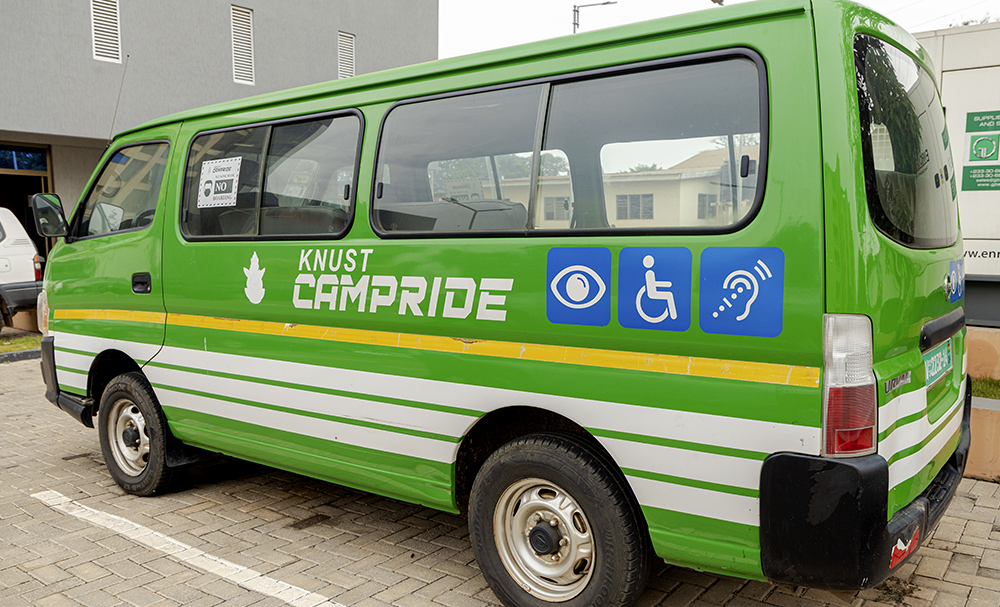 The University's commitment to inclusivity and accessibility is further demonstrated by its provision of shuttles specifically dedicated to students with disabilities. These shuttles are equipped with features to ensure a safe and comfortable ride for students with different types of disabilities, such as wheelchair ramps, accessible seating, and others.
In addition to being available for pick up at any point of call, the University's disability shuttle service operates on a regular schedule, so students can plan their transportation needs. The shuttle drivers are also trained to aid students with disabilities as needed.
KNUST's commitment to supporting students with disabilities goes beyond just providing accessible infrastructure.
The Director of Student Affairs, Professor Wilson Agyei Agyare and his Deputies have put in place a variety of initiatives, including regular workshops that are specifically tailored to address the unique needs of students with disabilities. These workshops cover a range of topics such as disability awareness, accessibility, and accommodations. They also include training sessions for faculty and staff members on how to better support students with disabilities.
The Deputy Director of Student Affairs and Patroness of Students with Disabilities, Professor Marian Nkansah, provides individualised support to students with disabilities through regular meetings or consultations. This support includes working with the students to identify their specific needs, providing guidance on academic, accommodations and other resources, and helping them to address any challenges they may face while on campus.
KNUST's commitment to creating an inclusive and welcoming environment for students with disabilities not only benefits individual students but also creates a more diverse and enriching community for all. Prospective students, parents and the general public are urged to choose KNUST as their first option for scientific and technological training.