A delegation from South Dakota State University (SDSU) has paid a courtesy call on the Vice-Chancellor of Kwame Nkrumah University of Science and Technology (KNUST), Kumasi, Professor (Mrs.) Rita Akosua Dickson at the Council Chamber. The delegation, made up of 13 students and 3 faculty members, represented various programmes within the fields of Nursing, Pre-Med, Pharmacy, and Dentistry at SDSU, USA.
The leader of the delegation, Dr. Greg Heigberger, Associate Dean of Academics and Student Success in the College of Natural Sciences at SDSU, expressed his delight at the opportunity to return with a new team, learn from KNUST and further strengthen the existing partnership. Dr. Heigberger conveyed his sincere gratitude to the Vice-Chancellor and the University's leadership for granting SDSU students the invaluable opportunity to study the rich healthcare culture of Ghana. He further stated his enthusiasm regarding the fruitful relationship established between SDSU and KNUST, emphasising that this visit would pave the way for more students and faculty to take advantage of the exchange programme.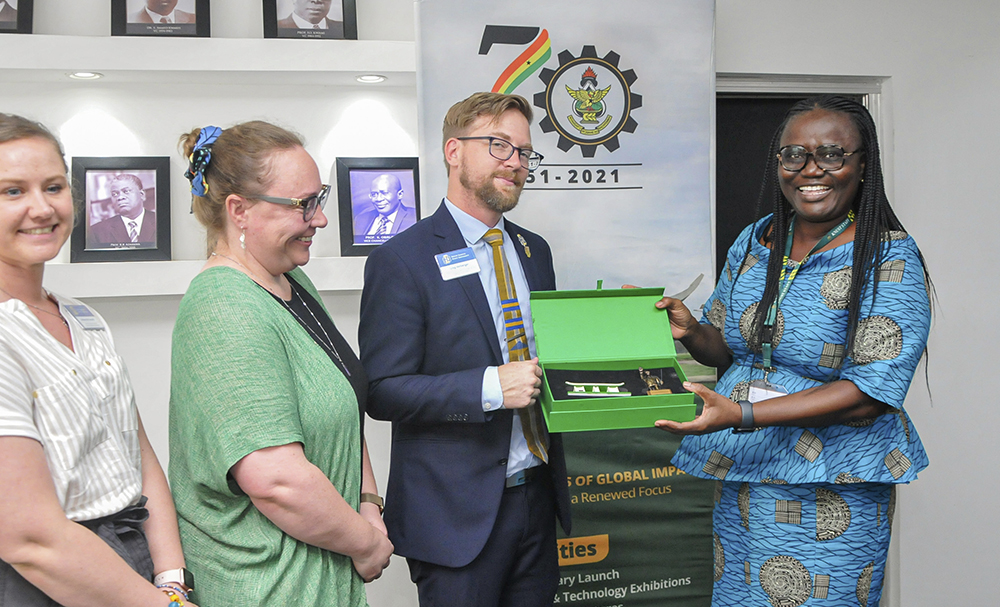 In welcoming the team, the Vice-Chancellor, Professor (Mrs.) Rita Akosua Dickson expressed her excitement about the growth of the relationship between the two institutions. She highlighted the importance of providing students, particularly those in the health sector, with enriching and diverse exposure to opportunities. Professor Dickson reiterated her belief that such exposure would not only benefit the students directly but also contribute to their broader understanding of universal health coverage.
Professor Daniel Yaw Addai Duah, Dean of the International Programmes Office, KNUST, highlighted the significance of partnerships in the growth and development of universities. Prof. Duah revealed that the visiting team had already started their clinical journey at the University Hospital, where they would primarily focus on observing and consulting within the pharmacy, wards, and laboratories.
Dr. Ebenezer Asamoah Nyarkoh, a Senior Pharmacist at KNUST Hospital hoped that the collaboration between KNUST and SDSU would continue to present lasting opportunities. He announced that the team from SDSU had presented the University Hospital with a collection of gifts, including BP monitors, examination gloves, and batteries.