The Design and Technology Institute (DTI) has signed a Memorandum of Understanding (MoU) with the Kwame Nkrumah University of Science and Technology (KNUST), Kumasi to strengthen the implementation of the Precision Quality curriculum on Friday, 29th July 2022 at the Council Chamber, KNUST.
The aim of the agreement is to provide internship opportunities to students of KNUST in specific Technical and Vocational Education and Training (TVET) Departments to further acquire skills in precision fabrication and quality with DTI and its other partner companies. The partnership would provide employability growth for students and improve their competency-based learning, thereby reducing the rate of unemployment in Ghana.
The Chief Executive Officer of DTI and Alumnus of KNUST, Ms. Constance Elizabeth Swaniker explained that the MoU with KNUST forms part of DTI's collaborative strategy to partner with stakeholders to reach the objective under the "Transforming youth TVET livelihood for sustainable jobs project" in partnership with the Mastercard Foundations 'Young Africa Work' strategy.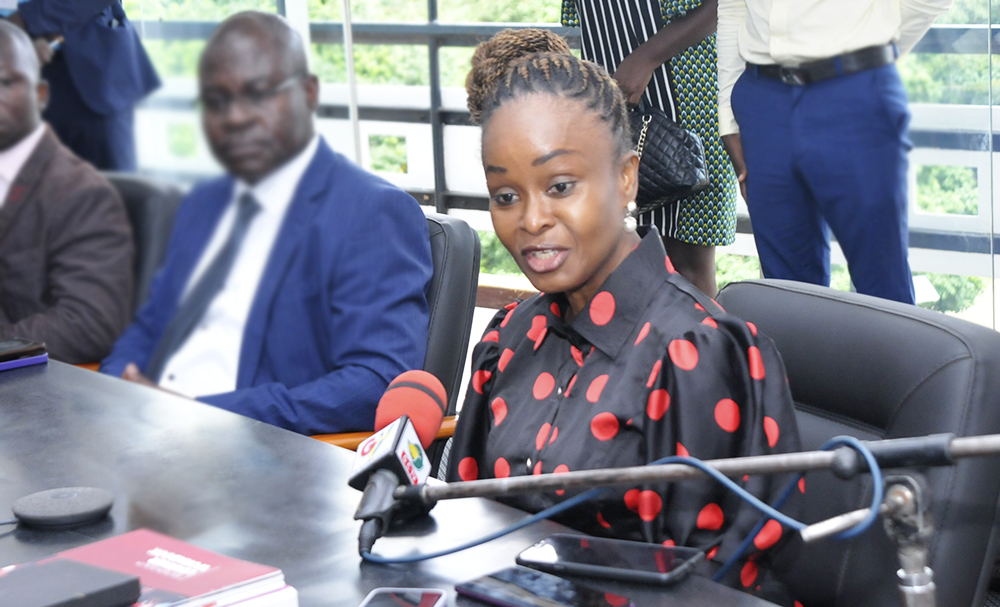 Ms. Swaniker indicated that the collaboration would bridge the gap between the industry and academia. She added that the PQ training programme was developed by industry players and certified by the Commission for Technical and Vocational Education and Training (CTVET) for introduction to the academic studies of technical universities. She further stressed the need for industry professionals to work closely with the universities to train industry-ready students.
"Industry will tell you that this is not a training ground, it is the role of the university to train and ensure that our students transition well into the world of work and are also ready to be employed. Therefore, to enable the industry to work more closely with academia, I present to you a curriculum that I designed alongside industry professionals that I worked with to bring to institutions such as KNUST and other technical universities industry-ready insights," she said.
Ms. Constance Elizabeth Swaniker believes that graduates will find jobs if they are highly equipped in their area of speciality. 'It is possible for every student who graduates from KNUST regardless of what they studied to land their dream job,'' she added.
The Pro Vice-Chancellor, Professor Ellis Owusu-Dabo noted that KNUST is keen on ensuring that students acquire the requisite skills through internship opportunities before graduating and equipping them for entrepreneurship and for the corporate world. In achieving this, he said that management has set up 'Students Internship Placement and Career Development Centres' to rectify the disconnect between certification and practical skills.
He expressed his gratitude and highlighted that this agreement is a step toward achieving the University's goal of empowering students with industrial competence. "We are excited today as this marks the beginning of yet another step towards achieving our goals in excellence in quality education, as we ensure that what we do reflects the academic disposition of our students," the Pro Vice-Chancellor stated.
The MoU which is expected to be in force for a period of three years and subject to renewal was signed by Professor Ellis Owusu-Dabo and Ms. Constance Elizabeth Swaniker for KNUST and DTI, respectively.
Present at the signing were the Deputy Registrar of Academic Affairs, Mrs. Margaret Dzisi; Deputy Registrar of General Administration, Mr. Daniel Kumi-Djan, Deputy Registrar, University Relations Officer, Dr. Daniel Norris Bekoe, Dean of the Faculty of Art, Professor Charles Frimpong and Dean of Quality Assurance and Planning Office, Professor Jerry John Kponyo for KNUST.
Accompanying Ms. Swaniker were Professor Alex Dodoo, Mr. Kwame Oppong-Peprah, Ms. Mildred Quaye, Ms. Korkor Amarteifio, and Mr. Mubarik Ahmed.