The Department of Food Science and Technology (FST) of the Kwame Nkrumah University of Science and Technology (KNUST), Kumasi, has commemorated the annual World Food Safety Day on Tuesday, 7th June.  This year's celebration was marked with an event on the theme: "Safer Food, Better Health" with a sub-theme: "Plastics in Food."
The event saw participation from the Ghana Standards Authority, Food and Drugs Authority, food processors, vendors, students, academia, the media, and the public.
Speaking at the event, the Head of the Department, Professor Isaac W. Ofosu, said safe food benefits the economy by increasing productivity, allowing prosperous food markets, stable food exports and reducing the strain on health care systems.
He noted that the safety of food is affected by the health of animals, plants, and the environment within which it is produced, so adopting a holistic one-health approach to food safety will deliver a better food safety system. He further said food safety contributes to the achievement of the Sustainable Development Goals (SDGs) for it is fully a cross-cutting area. The Head of the Department stated that one in ten people worldwide falls ill due to food contamination.  He further said unsafe foods cause one in six deaths from diarrhoea, with the magnitude of public health burden due to food-borne illnesses comparable to malaria or HIV/AIDS.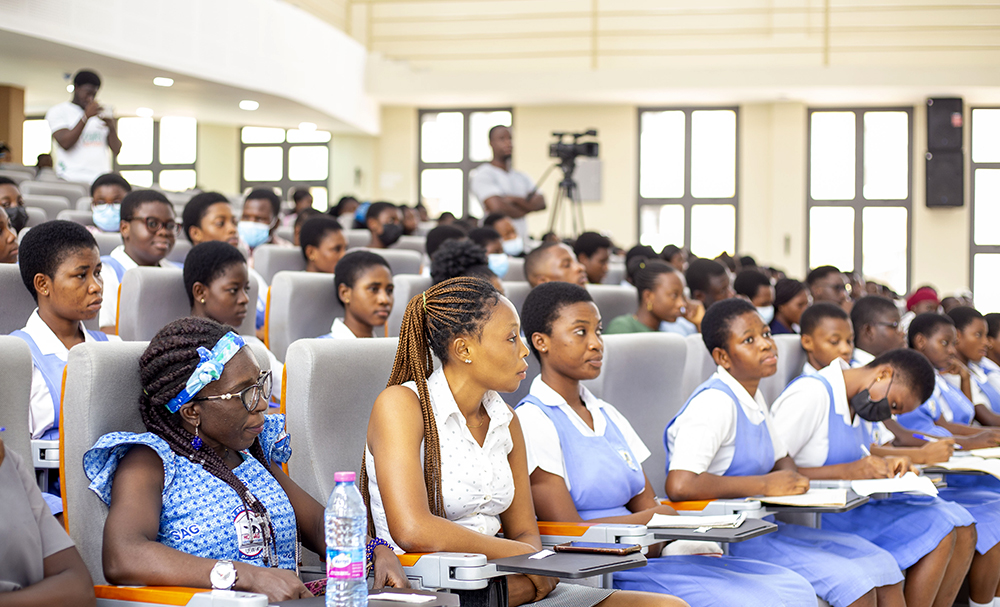 He said the Department recognises the need to create awareness and is using the event and other platforms to promote food safety. In this light, currently, the Department runs six programmes to contribute to humanity's food requirements. Which is BSc. MSc, MPhil and PhD in Food Science and Technology, MSc in Food Quality Management in distance learning mode and now PhD in Food Safety. They are also finalizing accreditation to start Diploma and BSc. in Food manufacturing, to be run on distance learning mode.  According to the Head of the Department, this is intended to reduce challenges associated with downstream food handling and manufacturing.
He also said It is only when food is safe that we fully benefit from the nutritional, mental and social benefits of sharing a safe meal.  He observed that safe food is one of the most critical guarantors of good health. Unsafe food is the cause of many illnesses and contributes to poor health, impair growth, micronutrient deficiency, mental illnesses, and non-communicable and communicable diseases.
He continued that globally one in ten people are affected by food-borne diseases annually, which are mostly preventable. He was of the view that our behaviours and how we build food systems and organize food value supply chain can reduce dangerous substances from getting onto our plates. He, therefore, called for reorientation by policymakers and the transformation of those in the food value chain to promote food safety.
On plastics, Professor Ofosu revealed that microplastics (plastic pieces which are smaller than five millimetres) have become increasingly prevalent in the natural world and studies published within the last three years show that they are contaminating not only the ocean and its seen wilderness but have contaminated air, food sources and our bodies.  He stated that past research has indicated that 5.25 trillion plastic pieces are floating in the ocean. But a few studies show there are 2.5 to 10 times more microplastics in the ocean than previously thought.
He continued that other emerging research suggests that 136,000 tons of microplastics in the ocean are being ingested into the atmosphere every year and blowing back onto land and the sea breeze poses a risk to human health. Unfortunately, microplastics are also present in drinking water, edible fruits, and vegetables according to a new study, meaning that humans are ingesting microplastics every day, he added.
According to Professor Ofosu, there is no food security without food safety, it is only when food is safe that will it meet nutritional needs and help adults to live an active and healthy life and children to grow and develop.