Professorial Inaugural Lecture by Professor Christian Agyare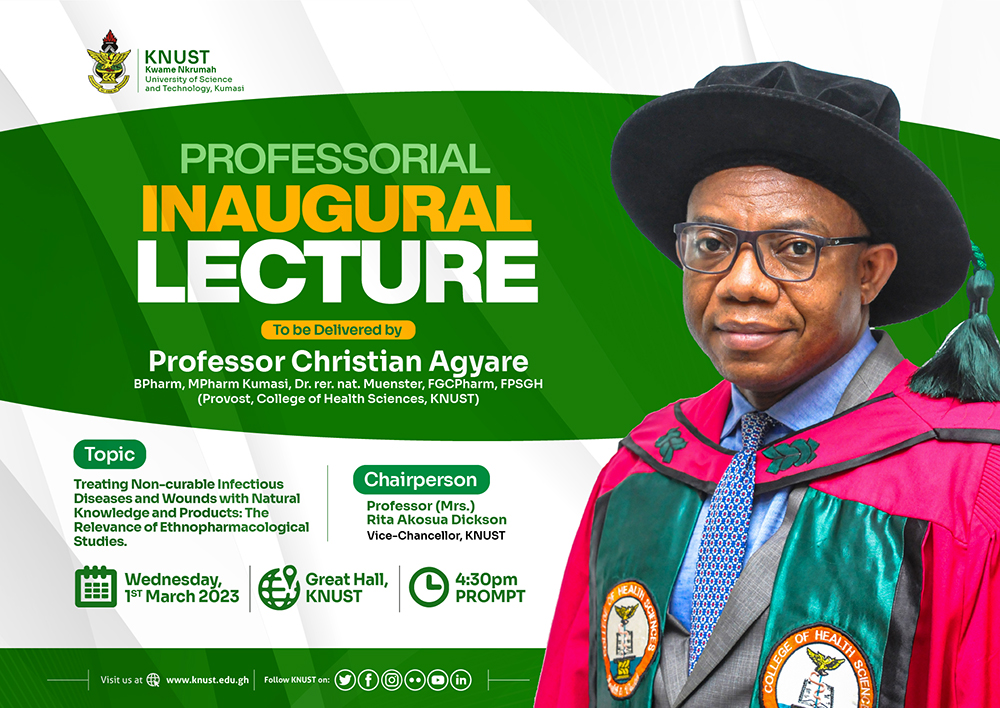 The Vice-Chancellor of the Kwame Nkrumah University of Science and Technology (KNUST), Kumasi, through the Public Lectures Committee invites the academic community and the general public to a Professorial Inaugural Lecture to be delivered by Professor Christian Agyare, (Dr. rer. nat. (Muenster), MPharm, BPharm (Kumasi), FGCPharm, FPSGH), Provost of the College of Health Sciences, KNUST.
Topic: "Treating Non-curable Infectious Diseases and Wounds with Natural Knowledge and Products: The Relevance of Ethnopharmacological Studies."
The Lecture is scheduled as follows:
Date: Wednesday, 1st March, 2023

Time: 4:30 p.m.

Venue: Great Hall, KNUST
Chairperson: Professor (Mrs.) Rita Akosua Dickson, Vice-Chancellor, KNUST.
Abstract
The emergence and global spread of drug-resistant pathogens with newly acquired resistance mechanism(s) has dire consequences on the viability of currently available antimicrobial agents. Especially disconcerting or disturbing is the spread of multi- and pan-resistant bugs that cannot be treated with the existing antimicrobial agents. This has necessitated the inclusion of antimicrobial resistance (AMR) indicator in the Sustainable Development Goals (SDG) monitoring framework.
Sadly, the pipeline for the development of new antimicrobials for clinical use appears to be parched or declining. A publication by the World Health Organization in 2019 identified only six (6) innovative antibiotics at various stages of clinical development that had the potential to address the WHO list of priority pathogens. Given the fact that some of these drug candidates may fail clinical trials and never find their way to the bedside of the patient, the number of potentials 'magic bullets' is woefully inadequate and must stimulate augmented effort in antibiotic discovery for mankind to win the war against microbes or resistant microbial strains responsible for difficult to treat infections. Plants are a promising go-to for potential leads in this race against time. They are potential sources of novel compounds that could be effective in the treatment and management of infections as well as improve the efficacy of existing therapies or antimicrobials via their modulatory functions and activities.
With new agents urgently needed in the treatment and management of disturbing chronic wounds and resistant infections such as carbapenem-resistant Gram-negative bacterial infections, natural product drug discovery efforts should be prioritized, intensified, and supported. These efforts should be supported by strong antimicrobial stewardship advocacy and campaigns to prevent global public health threats posed by resistant strains of microorganisms. 
Antimicrobial Resistance (AMR) has a significant financial and health burden on the country. It ultimately negatively affects the productivity of the workforce and strains the weak health systems of developing and transitioning economies. The worst consequence, if there is no timely intervention, would be increased mortalities from infections because of treatment failures, infections associated with invasive medical procedures such as surgeries, caesarean sections, organ transplants, and cancer chemotherapies.
Ghana must therefore put its best foot forward in this global fight. This can be fought through a multifaceted approach, through our research as academics; attitudinal change as citizens; policy formulation and implementation by authorities including regulators; and through public education.
About the Author/Profile
Professor Christian Agyare is a Professor of Pharmaceutical Microbiology and Natural Products in the Department of Pharmaceutics, Faculty of Pharmacy and Pharmaceutical Sciences, Kwame Nkrumah University of Science and Technology, Kumasi, Ghana. He comes from Koneyaw, in the Asante-Bekwai Municipality of the Ashanti region and his parents are Mr. Gideon Agyare of blessed memory and Madam Joyce Amoah. He is the fourth and the last child of his parents. He had his basic education at the Armed Forces Basic Schools at the 4th Battalion Infantry (4BN), Uaddara Barracks, Kumasi, and his secondary school education at Prempeh College, Kumasi. He obtained his Bachelor of Pharmacy (BPharm) and Master of Pharmacy (MPharm) degrees from Kwame Nkrumah University of Science and Technology, Kumasi, Ghana.
Professor Christian Agyare obtained his doctorate (Dr. rer. nat.) from the University of Muenster, Muenster, Germany, through a German Academic Exchange Service (DAAD) scholarship after which he had his postdoctoral fellowships at the University of California, San Francisco, California and the Novartis Institute for Biomedical Research, Boston, Massachusetts, USA.
Academic and Administrative Experience
Professor Christian Agyare was appointed a Lecturer at KNUST in 2003, promoted to Senior Lecturer in 2011, Associate Professor in 2016, and promoted to a Professor of Pharmaceutical Microbiology and Natural Products in the Department of Pharmaceutics, Faculty of Pharmacy and Pharmaceutical Sciences, KNUST, Kumasi in the year 2020. He is the immediate past Head of Quality Assurance and Planning Office, KNUST, and also served as a Vice-Dean of Faculty of Pharmacy and Pharmaceutical Sciences, College of Health Sciences, KNUST.
Professor Agyare was elected as a Non-Professorial Member of Academic Board of KNUST and served from 2014 to 2016. Professor Agyare served as a Deputy Examinations Officer at the Department of Pharmaceutics, KNUST, from 2004 to 2007. He was an adjunct Senior Lecturer at the School of Pharmacy (formerly Department of Pharmaceutical Sciences), Central University, Accra from 2012 to 2015. He has been a fellow of Independence Hall, KNUST since 2004. Professor Agyare is a Fellow of Ghana College of Pharmacists and Pharmaceutical Society of Ghana (PSGH). Professor Agyare is currently the Provost of College of Health Sciences, KNUST, Kumasi.
Research Outputs, Grants and Publications
Professor Agyare's research areas and interests include search for antimicrobial, wound healing and anti-inflammatory agents from medicinal plants and natural products. He also researches on antibiotic resistance in animals and humans. He has supervised several postgraduate research works and theses including Doctor of Philosophy (PhDs), Master of Philosophy (MPhil) and Master of Science (MSc) research works and theses and also several students' project works. He has more than 150 publications including over 100 papers in International Peer-review Journals, 60 articles published in Conference Proceedings and has co-authored 14 Books and Book Chapters. Professor Agyare is a reviewer for more than 80 peer-review international journals and a member of Editorial Boards of 35 International Journals. He has attracted research grants and funds amounting to over US$ 7.7 million from the German Research Council (DFG), German Academic Exchange Service (DAAD), Germany, Biotechnology and Biological Sciences Research Council (BBSRC), Engineering and Physical Sciences Research Council (EPSRC), United Kingdom, World Intellectual Property Organization (WIPO), Australian Government Trust and several other funding agencies within the last 20 years.
Professor Agyare is an international top researcher who was ranked 16th in the University (KNUST) and 68th in the Country by the World Scientist and University Rankings published in January 2023 (AD Scientific Index 2023) with a very good H-index of 28. On the Academia.edu platform, Professor Agyare has over 155 peer reviewed publications to his credit with 4225 views and over 50 followers. With respect to his Google Scholar profile, Professor Agyare has a total of 150 research publications and an H-index of 28 and i10 index of 60 with 2,880 citations.
Professor Christian Agyare is also highly visible on the international citation/bibliometric databases. On ResearchGate, he has 154 publications comprising 103 research articles, 14 books/book chapters and 32 conference papers, 3 data and 2 preprints. He also has an H-index of 28 excluding self-citation, with RG score of 33.60 which is higher than 92.5% of all ResearchGate members' scores according to ResearchGate metrics. As of 17th February 2023, Professor Agyare has a Research Interest Score of 2,068 which is higher than 97% of ResearchGate members, 124,024 Publication Reads, 19 Mentions and 141 Recommendations on ResearchGate.
On the local front, Professor Agyare was adjudged as the Best Researcher at Kwame Nkrumah University of Science and Technology, Kumasi, Ghana and won the Young African Researcher Award in 2016. He was also awarded Outstanding Contribution in Reviewing for Journal of Ethnopharmacology, and Toxicology Reports published by Elsevier Amsterdam, The Netherlands in 2017. He was awarded a certificate of Recognition in Review Process for Pharmaceutical Biology, Published Francis Group, USA in 2015.
Community Service, Engagements and Outreaches
Professor Agyare has considerable experience in university teaching, collaborative research, international relations, and outreach services delivery, as well as vast institutional management, research management and board room experiences at the University, National and International levels. These include headship/chairmanship/membership of high profile Boards, Committees and Teams, such as the following examples: He was the first elected African Member of Board of Directors, Society of Medicinal Plant and Natural Product Research; Chairman, Administration, Human Resource and Legal Committee and Member of National Oversight Committee of National Health Insurance Authority (NHIA); Member of Governing Boards of NHIA and Pharmaceutical Society of Ghana (PSGH); Executive Member of PSGH; Fellow of Ghana College of Pharmacists; Member of Quality Assurance and Legal Committee of Pharmacy Council.
Professor Agyare is a Member of Academic Board of KNUST; Member of the Executive Committee of KNUST; University Appointments and Promotions Committee (KNUST); Planning and Resources Committee (KNUST); Budgetary Committee (KNUST); Joint Council/Academic Board Committee on Honorary Degrees & Other Awards; and Joint KNUST-Komfo Anokye Teaching Hospital (KATH) Standing Committee. He has also served as Chairman & Member on the following Boards and Committees: KNUST College of Health Sciences Board; Management Committee of College of Health Sciences; Rationalization Committee; Faculty Board of the Faculty of Pharmacy and Pharmaceutical Sciences; University Health Services Management Committee and University Information Technology Unit (UITS) Management Committee (KNUST). He has also been Chairman and member of several Non-Statutory and Ad Hoc Committees in the University.
Professor Agyare has been deeply involved in the development of quality assurance systems and provision of targeted solutions to quality assurance issues. He has practical knowledge of Accreditation of new programmes and Reaccreditation of existing programmes and serves as an International Quality Assurance Expert for Regular Academic Programmes and Distance Education and Learning for Namibia Council for Higher Education (NCHE).
He serves as External Examiner and Assessor to several Universities and Institutions around the World including Department of Pharmacy and Complementary Medicine, Kenyatta University, Nairobi, Kenya; Faculty of Science and Agriculture, University of Limpopo, Limpopo, South Africa; Faculty of Health Sciences, University of Pretoria, South Africa, Faculty of Science, University of Johannesburg, Johannesburg, South Africa, and Banasthali University/Vidyapith, Rajasthan, India National Research Foundation, South Africa and other academic Institutions in Africa, Asia and South America.
At the national level, Professor Agyare serves as External Examiner and Assessor for University of Health and Allied Health Sciences, Ho, University of Cape Coast, Cape Coast, Centre for Plant Medicine Research, Mampong-Akuapem and Examiner at the Ghana College of Pharmacists.  
Professor Agyare is a practicing Pharmacist and a past Chairman of Academic, Social and Research Pharmacists' Association, and an Executive member of the Standing Executive Committee (SEC), and National Governing Board of Pharmaceutical Society of Ghana (PSGH) from 2015 to 2019. Professor Agyare is an alumnus of Global Young Academy (GYA) and has been a member of the Membership Selection Committee of Global Young Academy (GYA) since 2012. He was a Foundation member of the Ghana Young Academy (GhYA), and currently, alumnus of GhYA. He is a devoted Christian and a proud Methodist, He worships at Bethel Methodist Church, Kwadaso, Kumasi. He is a Leader, Chairman of the Finance and Development Committee and Marriage Counsellor in the Church.
He is married to Dr. (Mrs.) Charlotte Sena Agyare, a Deputy Director of Pharmaceutical Services, and the Pharmacist in-Charge of Tafo Government Hospital, Ghana Health Service. She is also the Managing Director of Life Chemist Ltd, Kumasi and Accra. They are blessed with three children, Nana Ama, Paa Kwaku and Maame Ama.