Study in Ghana: on the Spot Admission
31st May 2019
07th Jun 2019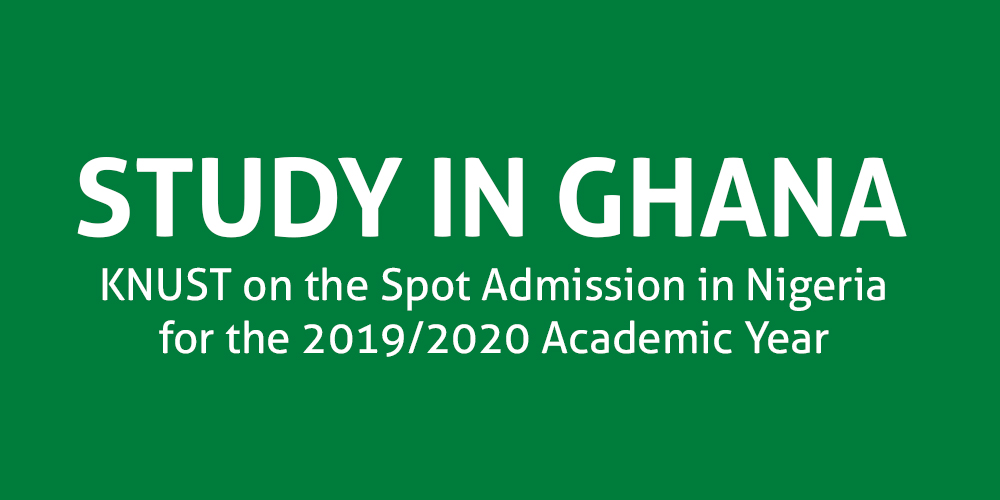 Kwame Nkrumah University of Science and Technology is Coming to Nigeria for on the Spot Admission for the 2019/2020 Academic Year
Interview Venues & Dates
Ghana High Commission Plot 301, Olusegun Obasanjo Way, Area 10, Garki, Abuja - Friday, 31st May – Saturday, 1st June, 2019
Ghana High Commission 12B, Oba Akinjobi Crescent, G.R.A. Ikeja Lagos - Monday, 3rd – Tuesday, 4th June, 2019
The Book Pod Plot 101 Brookstone Close, Off Prof. Abowei Street, G.R.A. Phase 2, Port Harcourt - Thursday, 6th – Friday, 7th June, 2019
Time: 9:00 a.m. – 4:00 p.m. Each Day
Entry Requirements
Six Credits at the G.C.E./IGCSE Ordinary Level in relevant subjects including English Language, Mathematics PLUS three (3) Passess at the G.C.E. A'Level in the relevant subjects OR Six Credits in the WASSCE/SSSCE Subjects (including English Language and Mathematics).  Come with all relevant credentials.
NB: Applicants seeking admission into the following Programmes: Architecture, Engineering, Economics, Computer Science, Actuarial Science, Statistics MUST have Further Mathematics:
Postgraduate Programmes
The University also offers postgraduate programmes in all Colleges at the following levels: Master of Arts (MA), Master of Science (M.Sc.), Master of Philosophy (MPhil.) and Doctor of Philosophy (Ph.D).  The Master's and Doctoral programmes take TWO and THREE years respectively to complete.  The minimum entry requirement is a good first degree (Second Class or Higher) in relevant or related field of proposed study.  A proven aptitude for research is an advantage.
For further information, interested applicants, parents and guardians may contact:
Website: www.knust.edu.gh
E-mail: admissions@knust.edu.gh
Telephone: +233-3220-60444/+234-802 635 3935/+233 240130946/+233 500482807
Fax: +233-3220-61831