Dr. Kwadwo Owusu Akuffo, Senior Lecturer and Head of Department, Optometry and Visual Science, College of Science, Kwame Nkrumah University of Science and Technology (KNUST), Kumasi, has been awarded the 2022 George Britton Early Investigator of the Year Award at the Brain and Ocular Nutrition (BON) Conference held in Downing College, Cambridge, United Kingdom.
The purpose of the George Britton Early Investigator of the Year Award is to recognise and honour the outstanding accomplishments and successes of early-career researchers. Dr. Akuffo was awarded unrestricted €2,000 in research funding from MacuHealth, a pharmaceutical company that offers customers industry-leading eye care supplements.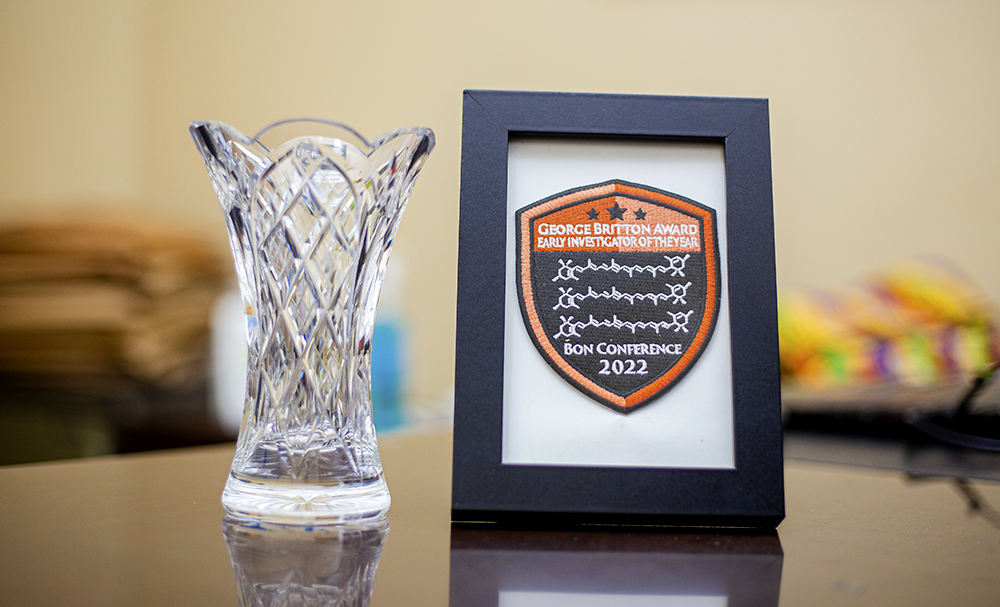 Dr. Akuffo gave a presentation at the conference titled "Macular Pigment Optical Density in a Healthy Ghanaian Sample." The Journal of Alzheimer's Disease has recently released an abstract of this study that was conducted. In addition to this, he was a co-chair for the invited speaker session at the Early Investigator Society (EIS), which was titled "Thoughts on intellectual resilience and self-belief."
Dr. Akuffo completed his Doctor of Optometry (OD) degree in 2011 at KNUST and obtained his Doctor of Philosophy (PhD) degree in 2017 at the Nutrition Research Centre Ireland (www.nrci.ie), Waterford Institute of Technology, Waterford, Ireland. His research focuses on ophthalmic epidemiology and ocular nutrition. He is a Fellow of the American Academy of Optometry (AAO), The World Academy of Sciences (TWAS) Young Affiliate, and an Affiliate of the African Academy of Sciences. He is also a member of the Ghana Science Association (GSA), Ghana Young Academy (GhYA), Ghana Optometric Association (GOA), and the Association for Research in Vision and Ophthalmology (ARVO). Dr. Akuffo has published over 40 scientific peer-reviewed articles and contributed to several conference proceedings. He is an Associate Editor for Springer Nature's BMC Ophthalmology journal and a reviewer for several ophthalmic journals.
The Management of KNUST congratulates Dr. Kwadwo Owusu Akuffo for winning this prestigious award.