The University of Nebraska Medical Centre (UNMC) has signed a Memorandum of Understanding (MoU) with the Kwame Nkrumah University of Science and Technology, (KNUST) to establish cooperation between faculty members of both institutions. The objective is to explore potential collaborative projects in teaching, research and clinical healthcare.
The leader of the UNMC delegation, Dr. Dele Davies, Senior Vice-Chancellor for Academic Affairs, UNMC, stated that the MoU would bring both institutions together through exchange programs for students, academic and administrative staff. In this regard, three (3) Public Health students of UNMC would participate in the exchange program scheduled to begin this year.
He mentioned that, UNMC would fund selected postgraduate students of KNUST to pursue Doctor of Philosophy (Ph.D.) programs at UNMC. He assured KNUST of UNMC's commitment to the success of the collaboration.
Professor Kwasi Obiri-Danso, Vice-Chancellor (KNUST), in his remarks, expressed gratitude to UNMC for the partnership. He was hopeful that by summer, some students from KNUST would participate in the exchange program as planned.
Professor Obiri-Danso proposed that students of the Faculty of Pharmacy be offered the opportunity to have practical attachment at UNMC. He advocated for the organisation of workshops and seminars in areas of mutual interest for students of both institutions.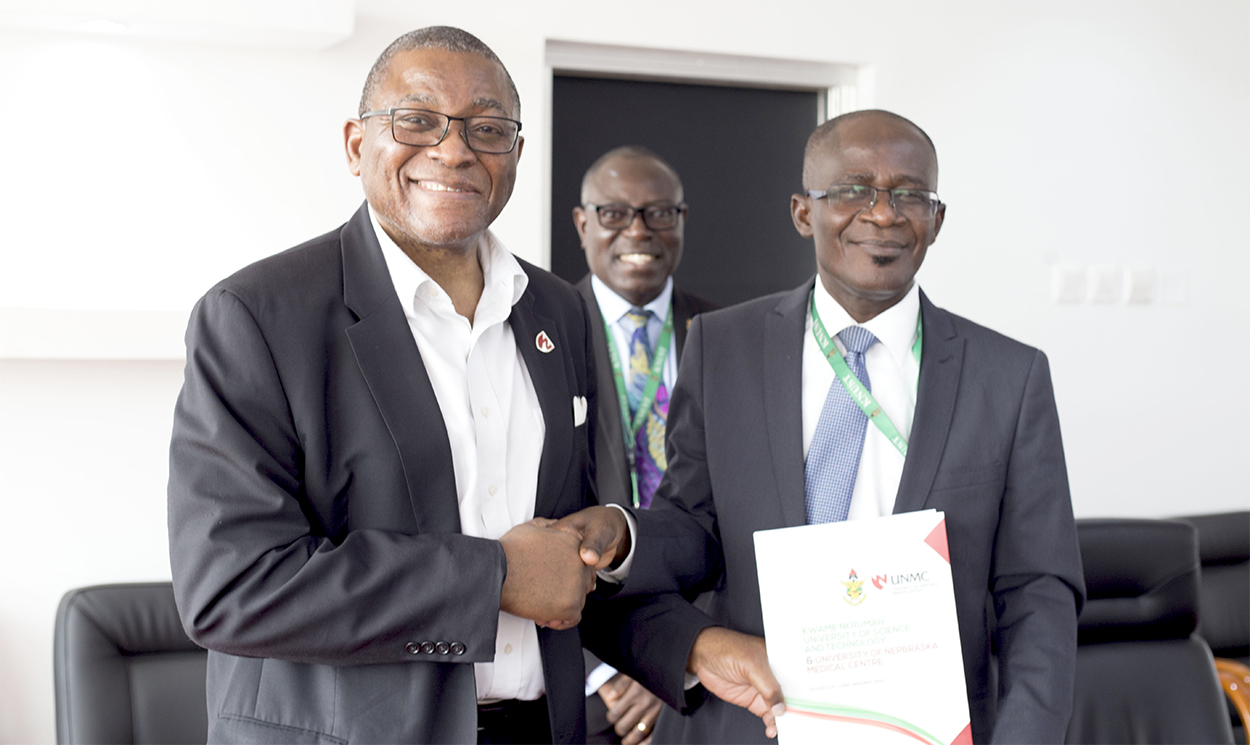 Professor Kwasi Obiri-Danso and Mr. Andrew Kwasi Boateng, Registrar, KNUST signed on behalf of KNUST whiles Dr. Dele Davies signed for UNMC. The MoU which would be for an initial period of three (3) years, would be reviewed by mutual consent.