The Minister of State in Charge of Tertiary Education, Prof. Kwesi Yankah paid an institutional visit to the University on 7th September, 2018. As part of the visit, he met with Management of the University to discuss issues on the conversion of male halls to mixed gender halls.
Prof Kwesi Yankah stated that the main purpose of his visit was to get updated on the major structural transformations in the University. He added that, he has been following the evolution of events on campus especially the conversion of exclusively male halls to mixed gender halls. He said, his visit is also to inquire about the welfare of the students and also familiarise himself with activities in the University.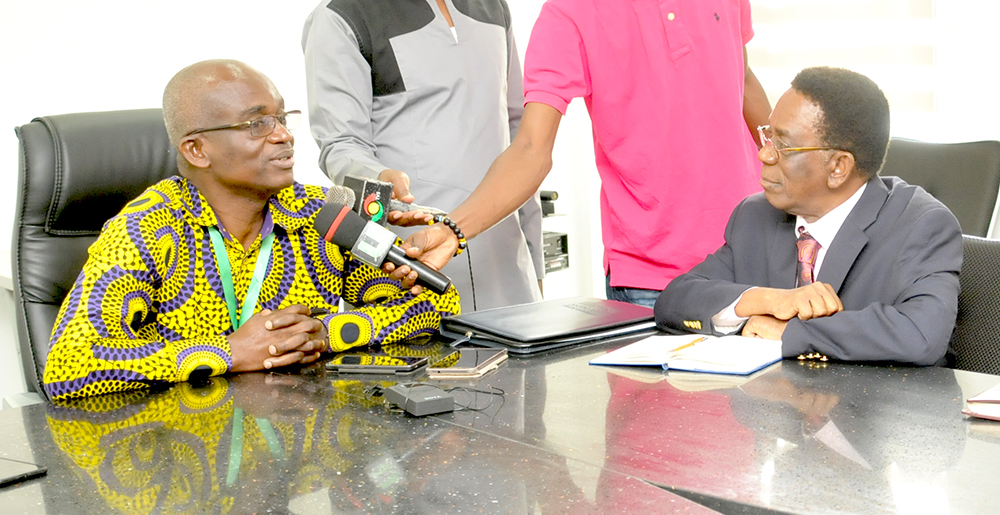 Prof. Charles Ansah, the Pro Vice Chancellor of KNUST, said that in line with the Vice Chancellor's initiative to increase female enrolment in Science, Technology, Engineering and Mathematics (STEM) programmes, the Management of the University decided that women must be given the equal share of accommodation which has led to the creation of the mixed gender halls. 
On the anticipated increase in enrolment in 2020 as a result of the increasing enrolment in the Senior High Schools, Prof. Ansah gave the assurance of measures put in place to accommodate the expected increase in enrolment. He thanked the government for the support offered the University so far.
Briefing the Minister about the welfare of the students during a tour of residential facilities, a female resident of Unity Hall explained that information circulating on social media that the Hall is unsafe is false. She stated that adequate security measures have been put in place by the University for the safety of students.
After touring Unity, University, and Africa Halls, Prof Yankah inspected the proposed 4-Storey classroom/lecture block for the School of Medical Sciences, (SMS), which has China State Hua (Ghana) limited as contractors and the new building of the Faculty of Humanities and Social Sciences. He proceeded to inspect the site for the first phase of the proposed   5-Storey classrooms and offices complex for the Department of Nursing and also visited the L. I Andoh which serves as the Headquarters for KNUST Security Services.
Pro. Yankah, after his tour, thanked the Management of the University for achieving what other universities in Ghana could not achieve with regard to the conversion of male halls into mixed gender halls and commended KNUST's bold attempt at policy change in response to global demands for gender parity.