The Vice-Chancellor of the Kwame Nkrumah University of Science and Technology (KNUST), Professor (Mrs) Rita Akosua Dickson has formally launched the U.S. State Department Bureau of African Affairs' University Partnerships Initiative (UPI) at an in-person and virtual ceremony on Wednesday, 14th October, 2020 at the Amonoo Neizer Conference Room, KNUST. 
The UPI seeks to strengthen existing ties and foster new collaboration between U.S. and African universities through faculty and student exchanges, joint research, administrative capacity-building and public-private partnerships. The collaborators of the initiative are KNUST, U.S Embassy, Accra, Texas International Education Consortium (TIEC) and Iowa State University (ISU).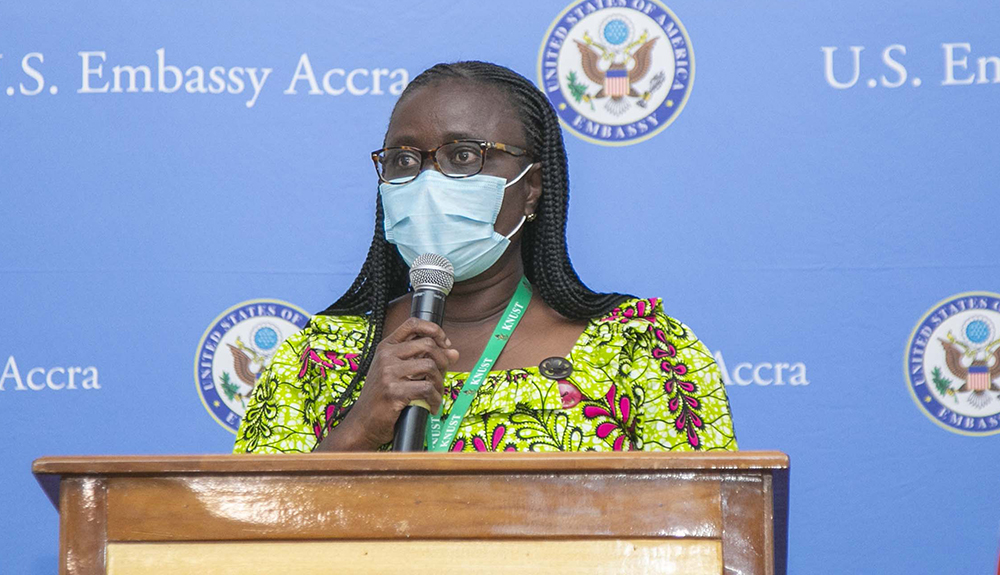 Professor (Mrs) Dickson in her remarks indicated that, KNUST exists to advance knowledge in Science and Technology through effective teaching, entrepreneurship training, relevant research and community engagement.
She revealed that the joint research with TIEC will offer the institution an opportunity to transfer knowledge to less privileged individuals to access in-person learning experience from KNUST. This, she said would improve the lives of the people. She added that the aim of the partnership is to ensure that e-learning and teaching which has become the new normal is made easier.
The Vice-Chancellor also endorsed the ISU-KNUST project which will strengthen the institution's capacity towards achieving its mission in positioning KNUST in an era where academia-community engagement for the socio-economic development of less privileged communities is paramount. She, therefore, on behalf of management pledged her full support for the partnership.
The Assistant Secretary of State for African Affairs, Ambassador Nagy applauded the inaugural UPI collaborations in Ghana, stated that the projects exemplify core principles in American higher education leadership: excellence and innovation in delivery of online education. He explained that with the advent of COVID-19, institutions rely largely on virtual learning, which is now vital for education.  
Dr. Robin Learner and Dr. Dirk E. Maier, representatives from the TIEC and ISU respectively provided overviews of the projects. 
TIEC and KNUST will asses faculty and institutional capacity that is, synchronous, virtual professional development regarding flexible learning and online teaching, to implement flexible learning and online teaching (guided online course production and training of trainers). They will also organize joint workshops.
The partnership between KNUST and ISU seeks to strengthen KNUST's capacity and interest in community engagement, improve Student Applied Problem-Solving Skills and KNUST pedagogy and lastly promote joint implementation of Poverty-Reducing Solutions.