The Kwame Nkrumah University of Science and Technology's (KNUST) School of Business (KSB) in collaboration with the Technische Universität Berlin (TUB) has officially launched the Affordable Sustainability for Logistics Network in Ghana, (ASONG). The launch saw faculty, staff, students, and industry partners.
Though the project commenced in July 2022, the project launch is to formally kick off to help meet their overall objectives in Ghana. The overall objectives are to promote continuous professional training and certificate in sustainable logistics management, Development of practice-based local case studies for teaching and research in sustainable logistics management. Again, ASONG is expected to help in the promotion of university-industry linkage through internships and industry led-workshops.
Joining virtually, (Chair of Logistics) TUB, Ing. Dr. Benjamin Nitsche, in his keynote address, said the TUB and KSB have had a long-standing relationship, especially with the Department of Logistics and Supply Chain.
He said the TUB has 408 partnerships, 2,653 research associates, involves 36,570 students thereof, a budget of over 346.1 million euros, and is among the top-ten third-party funded universities in Germany. He said a Chair of logistics was established in 2022 and has strong cooperation with other universities across the globe.
Ing. Dr. Nitsche said under the cooperation, the research areas are global logistics management, logistics strategy, and best practices, sustainable logistics, and e-mobility. The Project will also explore transport logistics and transport management, new technologies in logistics, smart services, digital transformation, and humanitarian logistics, among others.
The Chair of Logistics stated that the TUB is developing new research horizons as there abound opportunities for the African markets which is the reason for the focus and partnership with Africa. He explained that Africa has unprecedented population growth. Africa's population is expected to more than double from 1 billion to more than 2.5 billion by 2050, by 2025, 1 in 6 people will come from Africa.
Dr. Nitsche said Africa's youth also play a role in the project as Africa will have the largest working-age population of 1.1 billion by 2034, unusual in an aging world. Almost 200 million people will move to the cities in the next decade leading to rapid urbanization.
There will be a growing middle class, 500 people will be in the proper middle class by 2025 and there will also be leapfrogging technologies as Africa's mobile subscription penetration is projected to also rise.
According to Dr. Nitsche, the fields of action for Logistics performance improvements in Africa are Infrastructure Development. Develop Local infrastructure logistics that are competitive by international standards. They will also localize digitalization and create tailor-made, innovative business models to leapfrog logistics performance.
He further stated that the project seeks to create affordable mobility solutions and integrate African competencies into global automotive networks. It will also foster the development of integrated-Intra African value chains through efficient logistics. The project will also help establish teaching and training facilities for logistics education and build up long-term competencies to enable sustainable job creation. In ending he hoped the cooperation between KNUST and TUB will help both institutions create opportunities for both markets.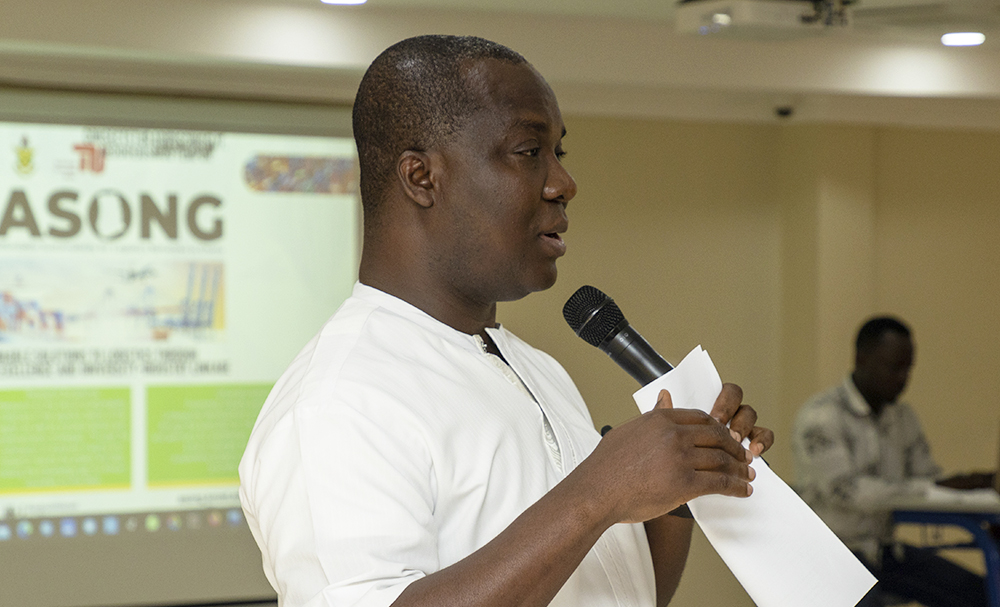 The Dean of KSB, Professor Nathaniel Boso said logistics is one of the core programmes in business education as logistics cuts across all fields and cannot be isolated. He, therefore, encouraged all departments in the School to get on board to make it successful and reap its benefits. According to the Dean, Africa's youthful population should be a call on the students that they are the ones to solve Africa's challenges. They should take advantage of the ASONG project to help solve problems in a sustainable manner.
Unveiling the ASONG Project, Professor Henry Kofi Mensah and Dr. Mahdi Alazzeh, said within the framework of the special initiative training and employment, the Federal Ministry for Economic Cooperation and Development, finances the DAAD funding program, "University Business Partnerships Between Universities and Industry in Germany and in Developing Countries."
According to Dr. Mahdi Alazzeh from TUB, the main objective is developing capabilities to create innovative and affordable sustainability solutions for logistics networks in Ghana through the integration of practice and -oriented education on the logistics sector at KNUST. This will involve sustainable economic growth, high-quality education, and scientific research cooperation.
Dr. Alazzeh continued that ASONG strives for sustainable success through academic excellence to integrate practical skills into teaching, university-industry linkages to establish industry-academia collaboration, and excellent research to promote affordable sustainability in logistics and supply chain management.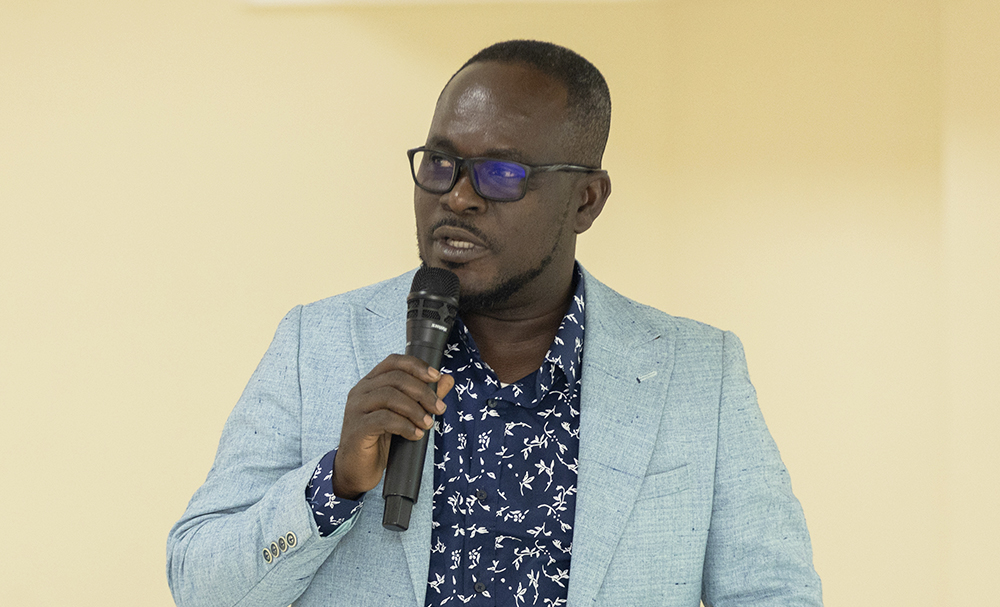 The Principal Investigator (PI) for the ASONG Project, Professor Henry Kofi Mensah said ASONG also seeks to conduct real-life case studies, company workshops, and field trips not only for creating practice-oriented teaching content but also for research purposes. Under the Project, ASONG will research the logistics labour market in Ghana. A certificate course program, internship exchange between Ghana and Germany, web-based internship platform, field trips for students and researchers, real-life case studies, company workshops, and research symposia will be undertaken.
Professor Mensah said ASONG is accompanied by a proficient set of business partners from the automotive, pharmaceutical, and food industries as well as logistics service providers in Ghana and Germany to provide necessary practice insights.
The KNUST-TUB ASONG project has Solar Taxi, Olam, ECOM Ghana, SCHAEFFLER, BAYER, SCHENKER, Ladybird Logistics, AHK, Mandy Agrofoods, Oson's Chemist, and TELEKANNE as industry partners.
There were solitary messages from the International Programmes Office and Industry partners.