Professor Joe Amoako Tuffour, a Member of Ghana's Economic Management Team and a former member of Faculty of KNUST, has called for commitment on the part of politicians to do things for public good but not for political desirability or parochial reasons and to put the interest of the country first.
Professor Joe Amoako Tuffour made this call when he delivered a public lecture organised by the Economics Students Association (ESA) and the Political Science Students' Association (POSSA), ESA-POSSA of KNUST on the theme: "The Effects of Politics on Ghana's Economy".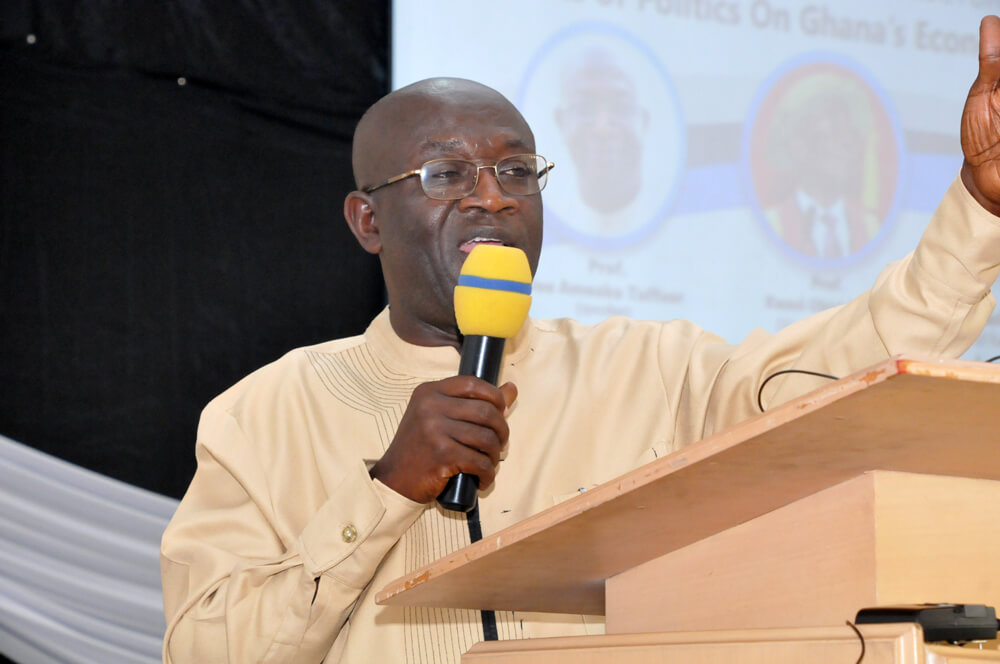 Professor Amoako Tuffour indicated that when political desirability becomes the key consideration in national development, every political party creates its own development agenda without considering the national one. He continued that so far, only two political parties have dominated the political landscape in the fourth republic and if care is not taken, it is likely that other political parties will also come and do the same thing.
Professor Amoako Tuffour bemoaned the fact that government borrows money to fund its budget and development projects, with most of these projects not fully completed. He further said successive governments do not complete projects initiated by previous governments but start new ones mostly with these borrowed funds.  
He said such uncompleted infrastructural projects become unusable and stranded assets which deteriorate and will need refurbishment or renovation in order to be useful.  According to him, this brings additional cost in refurbishing and does not encourage continuity in development.
President of the POSSA, Emmanuel Hanson, said one of the mandates of the Association is to contribute to issues of national development and the public lecture is one of such avenues. Mr. Hanson stated that both economists and politicians are needed by the country to spearhead development, ensure formulation of policies, protection life and property and efficient management of the country.