In commemoration of the 24th Anniversary of Otumfuo Osei Tutu II's ascension to the Golden Stool, the Otumfuo Osei Tutu II Foundation has extended its support to the KNUST Basic School.
Representing the Foundation, the Stakeholder Relations Head, Mr. Kwabena Owusu Ababio, presented a sum of Five Thousand Ghana Cedis (GhȻ5,000) and branded exercise books to the KNUST Basic Schools during its 2nd Annual Spelling Bee and Quiz Competition.
According to him, the Otumfuo Osei Tutu II Foundation has undertaken a remarkable initiative to distribute One Million (1,000,000) branded exercise books to school children within the Ashanti Region. He noted that although the distribution is yet to commence, the KNUST Basic School has become the first recipient of the exercise books based on the relationship that exist between the Foundation and the School.
Receiving the items on behalf of the School, Mrs. Nana Oye A. Woodiez, the Deputy Head of the KNUST Basic School, extended her heartfelt appreciation to the Management of the Foundation for their kind gesture. She stated that the books would be given to participants of both the spelling bee and quiz competition as part of the award package.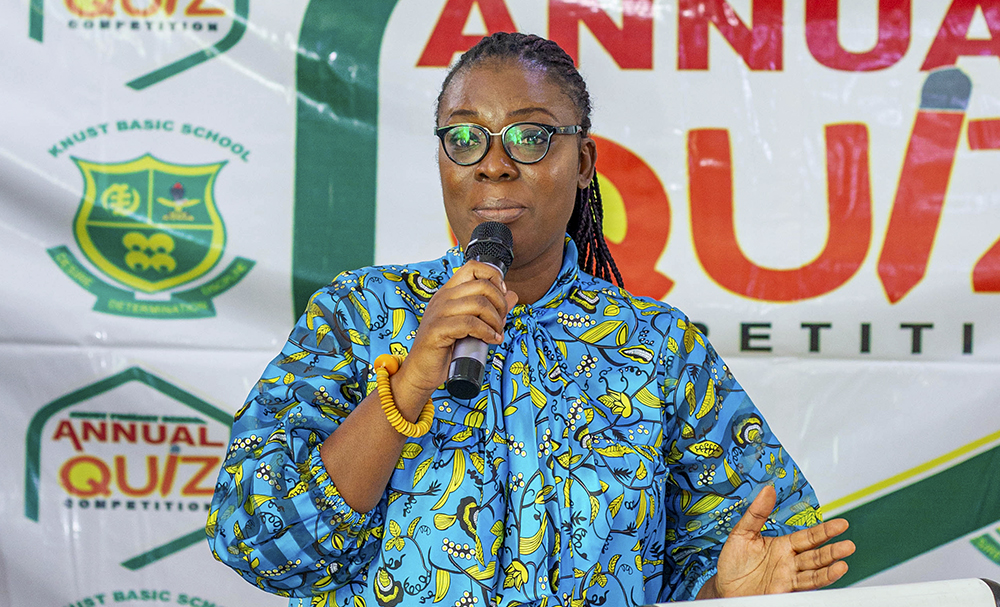 As the special guest, the Executive Director of the Foundation, Nana Afia Kobi Prempeh, announced that the Foundation has identified talented students from the KNUST Basic School who will be groomed to compete at the national level. To this end, she revealed that the Foundation has doubled the number of slots allocated to the School, from 2 to 4, in the annual national spelling bee contest for basic schools across the country. She further highlighted the KNUST Basic School's outstanding performance in the Foundation's premier reading contest for junior high school students, known as "The Otumfuo Community Challenge." She commended the School for consistently producing a high number of community champions and praised the University Community for upholding discipline and maintaining a high academic standard, making KNUST a preferred institution, among others. She extended her heartfelt congratulations to all the participants of the 2nd Annual Spelling Bee and Quiz Competition and encourage them to pursue their educational goals with passion and dedication.
In a related development, Amaris Educational Complex also supported the competition with an amount of Two Hundred United States Dollars ($200) to be awarded to winners of the contest.
The KNUST Basic School Annual Spelling Bee and Quiz Competition aims at developing the confidence and expose learners to healthy competition. It serves as an avenue for pupils to improve upon their spelling and ultimately enhance the reading habits of learners.